It's an entire goddamn circus
There is an excellent bit from Netflix's Death to 2020 where a British woman compared the United States elections to a game show. Visibly confused, she describes the US electoral college as a race where candidates have to 'flip' red and blue states, each worth different points, to win.
It's a system that makes little immediate sense to anyone who isn't an American, but for the sake of reference, you can check out the video below.
The confusing political climate reminds us of the one we have here in the Philippines. Don't get us wrong, our election process is more straightforward: get the most votes and win.
No, we're talking about how the filing of candidacies for the upcoming 2022 elections has turned into a goddamn teleserye, filled with plot twists, surprise characters, and manipulations that will undoubtedly force the Commission on Elections (COMELEC) to re-examine its policies on candidate substitutions.
It's just as entertaining as any game show, maybe even more so, considering the number of elements in play.
The plot twists: every Duterte ally
President Duterte and his allies treated our electoral process as a game of 'Trip to Jerusalem.' After weeks of denying he was a glorified placeholder, Senator Bato Dela Rosa withdrew his candidacy for president, with Sen. Bong Go serving as his replacement. Go also rescinded his initial run for Vice Prezzo.
Prezzo Duterte, once eyeing retirement or the VP post, is now gunning for a senatorial seat, most likely to spare himself from the tsunami of legal cases he'll face after his term ends. His ever-loyal spokesperson, Harry Roque, will do the same via substitution after failing to join the International Law Commission (ILC).
The entire scene is both amusing and sad. Yes, a circus produces a chuckle or two, but ideally, people gun for politics to serve, not become pawns to be shifted around as their masters see fit.
The long lost s̶i̶b̶l̶i̶n̶g̶ candidate
Davao City Mayor Sara Duterte is running for a national post after months of denying that she's not interested in doing so. Shocking, we know.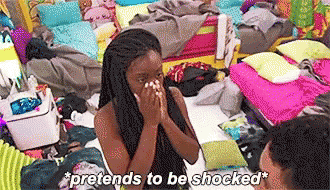 We were tempted to call the younger Duterte's run a 'plot twist,' but is it a twist when you can see it coming a mile away? Those 'Run, Sara, Run' posters weren't exactly subtle. Neither is wearing a jacket that bears 'Sara All 2022' while meeting with eventual running mate, Bongbong Marcos, in Cebu.
It was never a question of if, but when. But admittedly, the entire 'oops, I'm running after all' schtick is a bit tired after Duterte Sr. pulled a fast one in 2016. Sequels are rarely as good as the original.
The bida and kontrabidas
Now, the bida and kontrabidas in this teleserye will depend on which presidential candidate you support.
But each has their storyline: Marcos Jr. and his 'oppressed sadboi' gag, VP Leni Robredo as everyone's Mom, Sen. Manny Pacquiao and his 'God-given destiny,' Isko Moreno and his 'Batang Tondo' image, and Sen. Ping Lacson and his begrudging attempt to be progressive (death penalty, whomst?).
Others have thrown their hats into the ring, but let's be honest: only a select few have a legit chance of winning.
And with great characters come equally awesome one-liners. Who could forget when Yorme lost his sh*t and labeled Leni's supporters 'yellowtards', only for the VP to say that she couldn't give two sh*ts (we're paraphrasing)? Or better yet, when Prezzo Duterte recently accused Marcos Jr. of being pro-communist, sending DDS and apologists down into a confused spiral?
You can't make this stuff up.
Regardless of choice, the 2022 elections will surely be a clusterf*ck of personalities, maneuverings, and drama – all while the fate of the Philippines hangs in the balance. It's either going to be redemption season for our country or another trip to the darkest timeline. One outcome to define our future.
Ang Probinsyano, eat your heart out.