There are various mobile applications for specific things — messaging, editing photos, gaming, and even dating. This might not come as a surprise anymore, but a new app was created to examine if your phone is water-resistant.
The Water Resistance Tester helps users verify whether the IP67 or IP68 liquid resistance seals on their phones are still intact by using the barometer built into the device. An IP rating contains two-digit numbers. The first figure refers to solid particles, and the second one indicates moisture and water.
For the user to test their phone's water resistance, they have to firmly place both thumbs on the designated points on the screen. It will then measure the pressure differences to identify if the seals are still functioning.
Developer Ray Wang mentioned that he actually created the app for people to check their devices after it undergoes a repair or deteriorates as time goes by. While these kinds of useful apps exist, nothing beats good ol' prevention and common sense.
Android users are in for a treat since the app is now available on Google Play. There are no announcements yet if the app will roll out a version for iOS users.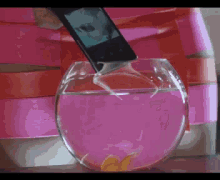 Banner: Unsplash/igorrodrigues