I suck at cooking.
It's always been a frustration of mine, esp when you consider the fact that I live alone and that my life literally depends on me being able to feed myself.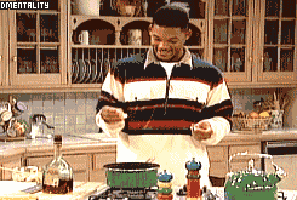 So when the We The Pvblic team announced that we would be taking up a baking class courtesy of the Wadough's Workshop Series, I was legit quaking in my Nikes.
After all, if I can't even perfect the art of cooking rice, then how the hell am I supposed to create a friggin cake?
But as I and the rest of the squad found out, baking is a cinch, as long as you're in Chef Wado Siman's hands.
So it begins
For its 10th workshop, the Wadough's Workshop Series teamed up with Nutrarich Davao Fine Tablea for an all-choco baking class, reserved for aspiring bakers, entreps or just normal people like you and me.
As such, the WTP squad was tasked to recreate four of Chef Wado's Tablea-themed desserts, like cupcakes, cake, bacon brownies (nope that ain't a typo) and choco mousse.
While the task initially seemed daunting (my anxiety levels were thru the roof), Chef Wado made the whole thing easy for us, thanks to his clear and precise instructions.
Aside from that, he's also an entertaining guy who can effortlessly socialize with anyone regardless of personality. At one point, the class even turned into a funny, hugot-filled sesh. Who knew baking could be so therapeutic?
But it shouldn't be a surprise that the dude is a great teacher. He has one heck of a resume after all.
Initially a Communications graduate from UST, Wado Siman's love for cooking led him to pursue an alternate career in baking.
His big break came when he had a stint as a finalist on the reality cooking show 'The Clash' and when he won the grand prize at Globe's search for the next big food entrepreneur.
Oh, and btw, he's also a certified gelato chef, as he recently earned this degree during his time in Italy.
Fast forward to today, Wadough's is now a flourishing pastry shop in Maginhawa Street, Quezon City that features classic cakes and cupcakes which manage to be absolutely delicious while delivering just the right amount of sweetness.
Not bad for a self-taught baker.
All in all, it was a fun time for the entire We The Pvblic squad. The recipes were simple, yet yummy. The class was informative but never boring and the entire Wadough's staff was just a blast to be with.
Heck, if he could convince a kitchen disaster like me to make brownies that could essentially conquer an entire town, then Chef Wado is pretty much a savant.
You can visit Wadough's at 154 Maginhawa, Diliman, Quezon City. You can also show them some love on their Facebook and Instagram page.