We love our pageants and we love our queens! After a month of being crowned as 2015 Miss Universe, Filipina beauty Pia Wurtzbach is back in the Philippines!
To mix things up, she had a homecoming parade yesterday January 25. Our queen went out the streets from Sofitel Philippine Plaza Manila to Ayala Avenue in Makati while on a float designed like the Miss Universe crown. Nothing more could shine brighter on that day!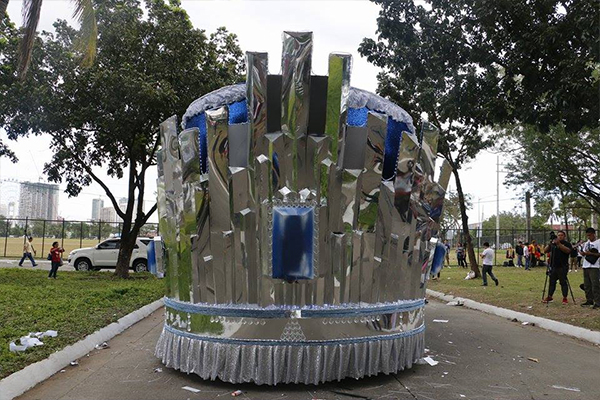 Looks good, right? It was designed by Fritz Solirio. Now for the parade, Pia wore a green emerald chiffon terno by Albert Andrada – the same designer who created her royal blue gown for the competition last December 21, 2015.
And with that, let the queen's homecoming parade begin!
#sabogconfetti
Newly crowned Miss Universe Pia Alonzo Wurtzbach during a victory parade Jan. 25, in Manila, Philippines – AP pic.twitter.com/0qAXHDmKCG

— GoldenCouple (@TRH_WandC) January 26, 2016
Even these med students went out to see her!
Of course, some would try to steal the spotlight

But they couldn't. It's just impossible! Just look at that rainbow behind her…
I know, right? She's Miss Universe, after all
?? Wowww best crowd ever best #MU we love u pia @PiaWurtzbach #MissUniverse #homecoming we r so proud of u??❤️? pic.twitter.com/xNK2ejlB9w

— 4thImpact-Hk (@SMacuro) January 26, 2016
Just in case you missed her homecoming parade, she's up in Manila for the whole week. Here's her schedule:
LOOK: @PiaWurtzbach's homecoming schedule https://t.co/cmt1viMzJm pic.twitter.com/eugpbUoxep

— CNN Philippines (@cnnphilippines) January 19, 2016
All hail the queen! Mabuhay!
from front to back.. confidently beautiful.. welcome home piawurtzbach #gopia #goph #gomanila #missuniverse2015 #m… pic.twitter.com/j7sbhaM0wq

— Miss Universe 2014 (@MsUniverseCrown) January 26, 2016