Starbucks lovers, you're going to love this!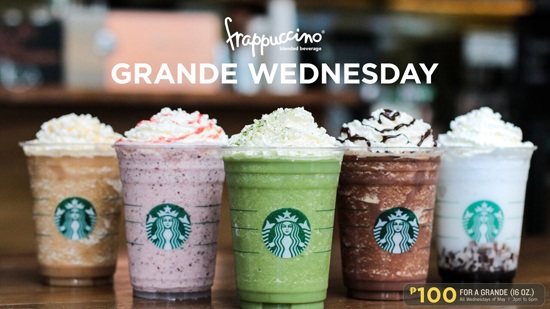 Frappuccino addicts, your May is going to get a lot better! For all Wednesdays of May, Starbucks is bringing back its Grande Wednesdays.
The promo starts from 3 pm to 6 pm and the company has a lot more cool flavors for you to explore! Starbucks is offering customized versions of the pvblic's fave signature Frappuccinos.
There's the Matcha Hazelnut Cream Frappuccino which is Green Tea Frappuccino blended with hazelnut syrup on May 2.
Almond Jelly Cream stars with the almond-syrup infused milk and coffee jelly that'll come out on May 9.
The Strawberry Cupcake Cream Frappuccino is going to wow the pvblic with its strawberry syrup blended into a Vanilla Frappuccino on May 16.
Butterbeer lovers, this is going to be a treat because the Butterbeer Frappuccino, which is a caramel and toffee-nut infused drink, is going to get the spotlight on May 30 along with the Candymint Frappuccino.
All of these yummy drinks will only cost you P100. Go ahead and get your Starbucks buddy!