If you need another reminder on why you should register to vote, check Pulse Asia's recent survey on the possible 2022 presidential candidates. It statistically shows Davao City Mayor Sara Duterte-Carpio as the frontrunner.
Pulse Asia conducted a face-to-face survey with 2,400 adult respondents from February 22 to March 3, resulting in the following rankings: Duterte-Carpio at the top spot with 27%, followed by ex-senator Bongbong Marcos with 13%, Senator Grace Poe with 12%, Manila Mayor Isko Moreno with 12%, and Senator Manny Pacquiao with 11%.
Duterte-Carpio Sara is most popular in Mindanao with 60% and Visayas 21%, but least preferred in Metro Manila with 12%. Isko Moreno was the favorite in the National Capital Region at 24%, while the rest of Luzon was for Marcos at 19%.
The chart below summarizes the popularity of all 13 possible candidates.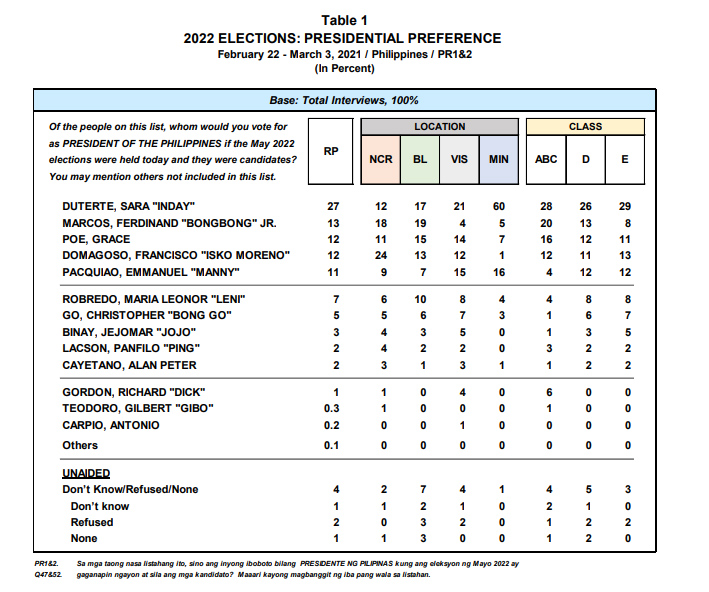 When the news of the survey broke out, the #FalseAsia hashtag trended on Twitter. There were various tweets of people declaring that the results were either a hoax or was paid for.
Based on the reactions, it was obvious these weren't the results the people were hoping for. Vice President Leni Robredo, a favorite among the Twitter crowd, floundered at 7%.
If the Pulse Asia survey result is far from the what you envision, then it's time to put in some action. While tweeting one's sentiments is a great way to raise awareness, nothing beats actually showing up and casting your vote. It will be the first step towards the kind of future you believe that Filipino people deserve.
For more details on registering, we already prepared a straightforward guide that you can check here. We have nearly a year before the next Philippine elections, but we only have less than five months left to register.