Can you not?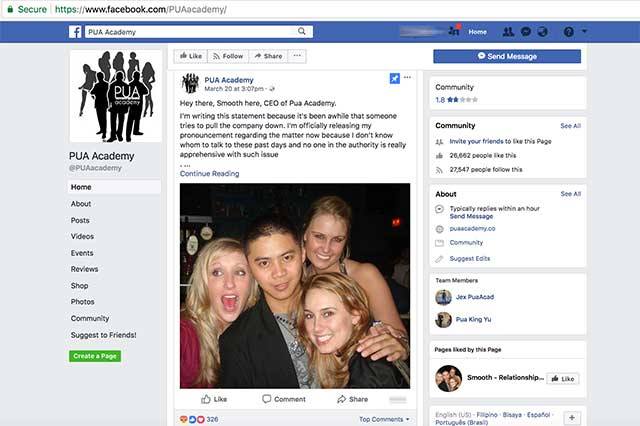 Youth Against Sexual Harassment has recently exposed the doings of the Pick-Up Artist (PUA) Academy wherein they teach "strategies" on how to seduce and bed a woman.
It claims to be "Asia's Leading Dating Company" but we're pretty sure it's full of sh*t because back in 2008, Sein "Smooth" Meneses, the CEO of the so-called academy, was shaded in the best way on national tv by The Sweet Life host Wilma Doesnt.
Smooth is known to be someone who "learned  the art of meeting ladies with the world's greatest pick-up artist known as 'Mystery'."
Erik Von Markovik aka Mystery is a Canadian pick-up artist who had a VH1 reality show in 2007 called the The Pickup Artist.
"Pick-up artists, we finding all social dynamic interaction in terms of indicate interest and indicate of disinterest it's all said and done from beginning from meeting a women [sic]," he says.
Co-host Mo Twister compares him to the likes of Will Smith in Hitch where he helps shy, timid men get the women of their dreams.
Twister later asked the women in the set if they would ever go out with Smooth. Doesnt wastes no time with a "No" and said, "Nagbago na ako ngayon eh. Nagkaroon na ako ng [standards]. Tumaas pa," she adds, like the goddess that she is.
Let's #jointhemovement and get a petition going on stopping this nonsense of a business now.