Long weekends getting you excited?
We get it, vacations are calling but the cash isn't picking up. It may only be the start of the year, but luckily, local travel expo events are ready for those looking to travel on the cheaper side.
Organized by the Philippine Travel Agencies Association (PTAA), the 27th PTAA TravelTour Expo is set to return this February 7 to 9 at the SMX Convention Center with up to 70% off discounts on travel and tour deals. You read that right.
Over 400 exhibitors in 900+ booths from the travel agency and tourism industry will take part in the 3-day expo, offering huge discounts on domestic and international flights, hotels, theme parks, and even cruise lines.
The packages also cater to both solo travelers (Osaka trip, anyone?) or group by connecting first-time travelers to well-known agencies and operators through the expo's affordable limited-time deals in countries Japan, Korea, Vietnam, Singapore, France, UK, and more.
All in all, PTAA aims to promote personal travel agencies rather than the conundrums of online bookings.
This year's long weekends, you're welcome:
Admission for the 27th PTAA TravelTour Expo's cost PHP70 (PHP50 for senior citizens), and when you consider it's PHP70 for 70% off, it's pretty dang worth it.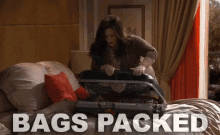 Banner art by Marx Fidel