It's just been a day since the Central Bank warned the public about the fake P500 Marcos bill that a satire page circulated online. But this time, a page that falsely claimed to be of the Philippine Heart Center's was flagged by the Department of Health (DOH). It shared political endorsements that specifically benefit presidential aspirant Ferdinand "Bongbong" Marcos Jr.
DOH posted a public advisory regarding the issue today, November 10. The official statement noted, 'We would like to clarify that the Philippine Heart Center Facebook page below is not affiliated with the management of PHC.'
'The public is warned not to subscribe to this fake Facebook page,' it added. The false page is now inaccessible as of writing. But according to PhilStar, it garnered over 20,000 likes and more than 21,000 followers as of November 10.
The page had reposted a video from the Bongbong Marcos 2022 page on Tuesday. The clip showed how the hospital was constructed during the time of the late dictator Ferdinand Marcos. Last October 19, it also shared a link to the interview of Marcos Jr. with Toni Gonzaga.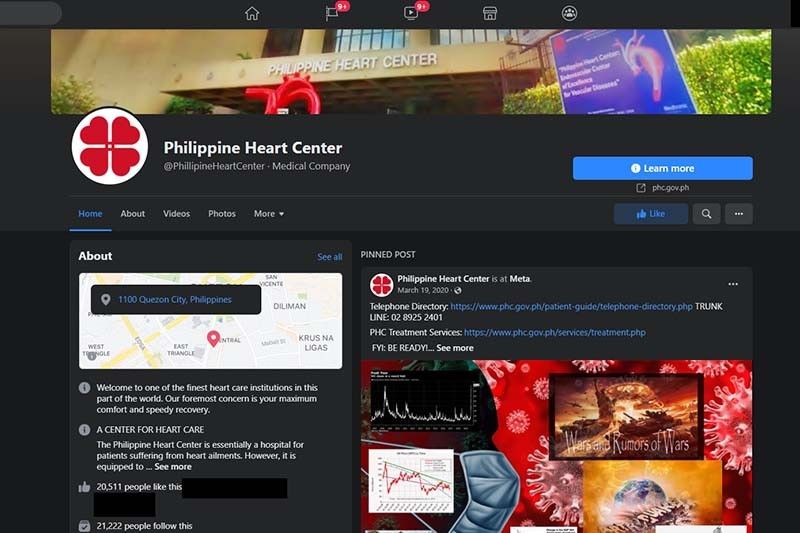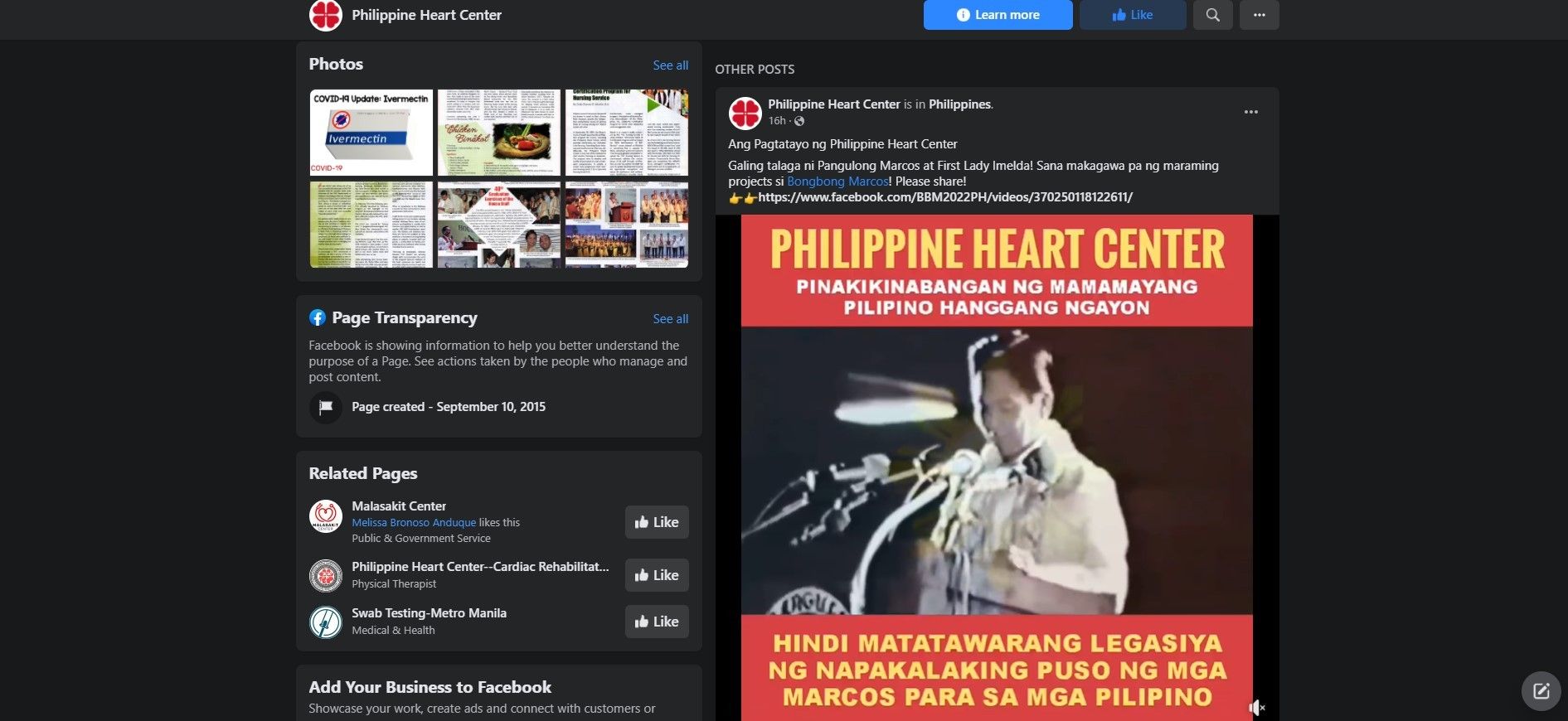 The health department's statement also reminded the public "not to share unverified sources of information from this page" and assured that it's working with PHC to take down the fake page. The official website of the hospital is www.phc.gov.ph/index.php
Dr. Carlo Trinidad a.k.a. the kidney doctor on Twitter called out the fake PHC page on Tuesday. He posted a screenshot of a post and said, 'Hey Philippine Heart Center, one of your admins is using your FB page to campaign.'
Meanwhile, Cecilia Jimeno of the UP College of Medicine tweeted PHC's Executive Director Dr. Joel M. Abanilla comment on the issue. It read that PHC has never "authorized anybody to endorse any political nor presidential candidate". The hospital will publish a stand condemning the act.
Hey Philippine Heart Center, one of your admins is using your FB page to campaign. You even shared Toni's interview with Marcos Jr. lol pic.twitter.com/xkRBmjE5vn

— Carlo Trinidad, MD (@hellokidneyMD) November 9, 2021
Re FB posts showing Phil Heart Center endorsing BBM as presidential candidate. Phil Heart Center has not ever authorized anybody to endorse any political nor presidential candidate. We will come out with a stand condemning this.
– Dr Joel M. Abanilla
Executive Director, PHC

— Cecilia Jimeno (@ceciledoc) November 10, 2021