Netflix has scored yet another hit with YOU, a psychological thriller that follows a charming bookstore manager stalking an aspiring writer and eventually getting into a relationship with her.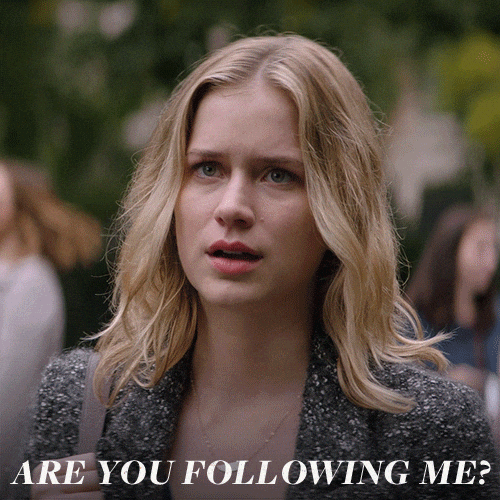 Two of the show's stars Penn Badgley, who plays the lead character Joe Goldberg, and Shay Mitchell, who plays the equally creepy role of Peach Salinger, were in Manila recently to meet the local press as well as the avid fans of the series.
As soon as members of the press entered the room for a roundtable interview with Penn, someone immediately asked him how he was dealing with jet lag. Holding a throw pillow, he said, "I think, I'm ok" but his heavy eyes gave him away – he was visibly fighting it.
Despite the jet lag, the American actor who's a first timer in the Philippines gamely answered the press' questions about his riveting role in one of the creepiest shows on television these days.
Here's the edited transcript of our conversation with Penn. If you hate spoilers, close this page stat!
What's the most intense hate that you've gotten so far playing Joe's character?
People who are tweeting at me and commenting on social media seem to enjoy the show and appreciate my performance and seem to be often quite troubled by Joe not only in how we're all willing to forgive him but we're all used to finding something to forgive in someone like him, because culturally, I mean across cultures, that's what we've often done, particularly for successful American white men. So, it seems like everybody's interested in that and I don't think anyone is actually saying, 'Oh, I just love Joe!' They're really saying, 'Oh, I like seeing Dan Humphrey on TV again.' You know what I mean? I don't think anybody's that crazy. And I think, we also, as the people who made the show, knew that he was meant to be quite charming. That's the point. Sometimes, I wonder why he had to be that charming. Sometimes, I wanted to make him less charming. I really wanted to make him much less of a human. But I trusted the writers and directors, most of them women.
You seem to dislike his character very much; what convinced you to take the part?
Well, all the reasons that I dislike him are all the reasons that I find it an interesting role, an interesting project. It's not that I dislike him, it's like, how do you feel like after you've worked out really hard? Sometimes, you feel great. Sometimes, you feel exhausted.
In the show, Joe said that he's a feminist. What do you think is his standpoint on that?
I can see how he thinks he's a feminist. I think this is where Joe, regardless of my performance and regardless of who Joe is, is like a representation. He's not a real person. So, in that way, when he says that, to me, he's representing this idea of a lot of men who go 'I love women, I have a daughter.' It's like, 'Bro, we all have moms. It's not enough.' That's what Joe is representing there. So, I'm not always sure what Joe is thinking, but it's always so important as much as we understand what he's representing.
A lot of fans, as seen on social media, have fallen in love with Joe. What can you say to those fans who continue to romanticize your character?
Try watching it again knowing that from the first moment they meet, she's dead. It's so heartbreaking. It's a story of a woman not escaping. It's a story of a woman, a victim of a lot of outside forces and being killed. So, it's very intense in that way. And if you see all of his charm as an unconscious manipulation, which is the way most people do – manipulate, it's not conscious. A lot of people are trying to be good, but they do terrible things. So, I think, I will just encourage viewers to maybe watch it again… It's a terrible advice! *laughter*
Which scene was most difficult to shoot?
Probably the whole last episode. There was a lot that was quite difficult. It's funny, I don't even wanna repeat what it is that I had to do – masturbating outside of her place. But that's what I was doing. That's what Joe was doing. That's what I had to enact. I found myself surprisingly disgusted, like I did not want to do it. It's funny, they wanted me to close my eyes and I remember being like, 'No! Why?' and they were like, 'Coz it's too creepy when you have your eyes open' and I was like 'What do you mean? What are we doing?' *laughter in the room*
Would you consider this your most challenging role so far?
Yeah, because I wasn't always sure. This wasn't always sure, that's all. I really believe in it now. I believe in Sera and Greg (show developers) and everybody along the way… the director who encouraged me to close my eyes. I'm pretty sure I said no. I think I might have given it one take with my eyes closed. I don't remember if they used it. But, I really believed in him. I really trusted everybody along the way. Clearly, somebody knew what they were doing. But playing Joe, I wouldn't recommend it.
Can you share any memorable or funny thing that happened while filming YOU?
It was a surprisingly fun set, like even they way I'm talking about it. It was often quite joyful, coz I think we were all being responsible about this stuff. Because we took it seriously, we were able to not be so serious. We were able to enjoy ourselves. What I mean is, because we weren't like 'Yeah, let's make it sexy, blah blah!', because it was really troubling, because we took that on in the right way, it actually meant that we were able to have a lot of security emotionally, spiritually and mentally. So, great friendships and really close bonds with everybody on the set. Any specific things, I cannot remember really.
Who were you closest to?
I'd say Elizabeth Lail (Guinevere Beck) and Marcos Siega, one of the executive producers. He directed two episodes – one of which was my favorite – Episode 6.
As a celebrity, have you ever had stalkers and if so, how were you able to relate those experiences to your role?
I don't think I've had stalkers or maybe they're just great and I don't know. Skilled stalkers. Being a celebrity means you're an object of desire or attention. It means you're objectified. So, maybe in that way, I relate to women – understanding what it feels like to be objectified, you know, whether you want it or not, so maybe it gave me a sensitivity to Beck actually. I always felt so bad for Beck. So, maybe that enabled me to be really sweet when I needed to be, or to be heartbroken. It enabled me to be heartbroken as Joe, not so much for Joe, but for Beck. Like on the 9th episode, when Joe was crying and stuff, it was really sad for me coz I think I was thinking about Beck or something… I don't remember.
Do you think Joe had good intentions, despite everything?
Even if he did, it doesn't matter. I mean, I hear you, he might have. Honestly, don't you think that probably a lot of people who do bad things are probably trying but they're failing?
Joe's relationship with the kid is very interesting because it's like he's a different person with the kid. What can you say about that?
I don't know. Sometimes, I wonder, 'Is this real?' He's just not a real person, so it's just kind of unfair to make him this humane with this boy. Would he really do this? And I think if the answer is yes, if this is possible, then I think the answer is like, he's the only person whom he could really be himself with because he doesn't feel he has to compete. It's like he's just a kid. And he's a kid whom maybe he identifies with because of his troubles at home. It's like he is his best self with Paco because he's not soulless.
Clinical psychologists say that psychopaths are born while sociopaths are made. Do you think Joe was born a psychopath or was he made a sociopath by his childhood circumstances and Mooney's violent way of turning him into an adult?
The fields of psychology and psychiatry are evolving. It wasn't that long ago when we thought that lobotomy was a civil, sane practice. I trust the professionals, they're experts, but I don't know how definitely you can say that about the human mind. The human being is a complex organism. I don't believe that Joe was born that way. But what do I know? I don't, but I question that anybody is truly born that way, because that's to say that evil is like a substantive power that we have no control over… that we have no agency… that we have no course of action.
If there's one character you wished Joe didn't kill in the series, who is it and why?
All of them. Can I say that? Well, Beck. The sad thing is, no one deserves to be killed, right? But she's the one who deserves to live. Even though people are like, 'Well, she cheated. She likes some other guy.'