It's been absurd
I never thought I would see the day where an act of charity could get you branded as a terrorist and the devil himself. Usually, when you help out people, you get a 'thank you' and other forms of gratitude. Maybe a good lola gives a piece of merienda. Bystanders would call you 'Idol!'. Other times, a smile is thanks enough.
When someone jumpstarts a movement that inspires people on a national scale, they get recognized. Maybe they'll get a call from Malacañang. A photo op here and there. But never as a potential enemy of the state.
However, for Patricia Non, founder of Maginhawa's community pantry, that is exactly what happened. As for writing, Non's actions have inspired more than 300 similar initiatives across the Philippines, all with the purpose of alleviating the suffering of the less fortunate.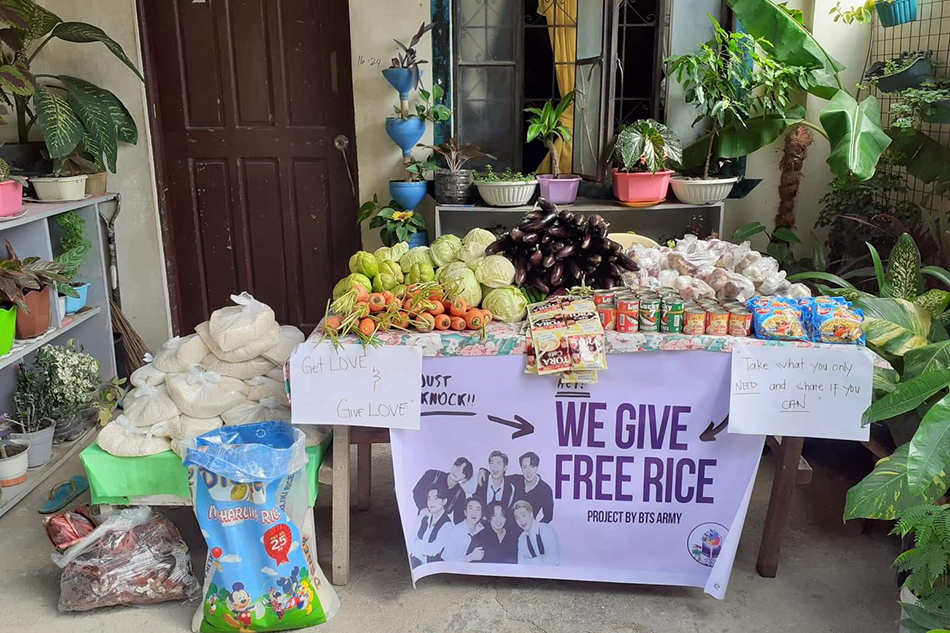 In any other setting, this would be a feel-good story, especially for a country groaning under the burdens of the pandemic. But as it turns out, here in PH, things aren't as straightforward.
In a head-scratching turn of events, this simple act of charity has been dressed as something malicious. As y'all have heard, Non temporarily paused operations out of fears of her safety and accusations of red-tagging on social media, some from government agencies themselves.
Non has since resumed her cause, but not before giving a tearful statement on how well intentions could be so maligned.
'The last thing I need is to explain myself, who I am, where I'm from, because my only clear intention was to set up the community pantry so people can gain relief from hunger', said Non.
'ANG DUMI PO NG QUESTION NA YAN.' Ana Patricia Non criticized a media question on whether she has communist links. @denverINQ pic.twitter.com/8cRAB8bP5s

— Inquirer (@inquirerdotnet) April 20, 2021
But despite gaining the support of mayors, Malacañang itself, and basically, anyone that has a shred of common sense, Non's troubles didn't stop there.
Her new grievance comes in the form of Lt. Gen. Antonio Parlade, a spokesperson from the National Task Force to End Local Communist Armed Conflict (NTF-ELCAC). Parlade has admitted to profiling community organizers, despite PNP Chief Debold Sinas saying there is no order to do such a thing.
Ever the charmer, Parlade is a bit notorious for being like a bull: he tends to only see red. His controversial history of red-tagging sprees includes a journalist and four well-known universities, which he accused as 'recruitment havens for the New People's Army'.
True to form, Parlade sees the same potential in community pantries. While he says that his agency isn't averse to initiatives that support those in need, he is also wary of the sudden spread of pantries nationwide. He describes the copycats as having a 'similar theme…packaged with the same strategy'.
When asked to elaborate on his investigation, Parlade compared Non to Satan and his temptation of Eve in the bible.
'It all starts with one, right? It's Ana Patricia. It's the same with Satan. Satan gave the apple to Eve. That's where it all started.'
What pic.twitter.com/K9EoorMqqS

— Jeff Canoy (@jeffcanoy) April 21, 2021
The devolution of a straightforward good deed into one of controversy and condemnation has been nothing but unbelievable. To take a basic act of human kindness, a thought so simple that it's taught to children, and blow it out of proportion. Give and you shall receive… criticism, scrutiny, and defamation.
If there's anything the ongoing issue shows, it's the hypersensitivity of those in charge. A paranoia born out of fear of the growing discontent, brewed by a lockdown with no end in sight.
And as we're all aware, fear makes us do crazy things.