You've been an absolute beast during the work week and now you deserve to treat yourself to a reward. Plus, payday just went by and your friends are practically begging your crew to go out and have some fun.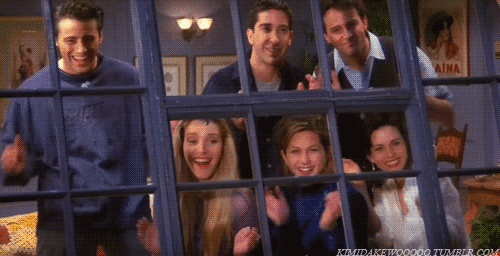 A couple of can't-miss movies just debuted during the week (Hello, Deadpool!) so why not consider rounding up the squad and have some pretty lit bonding moments over these awesome flicks?
1. Book Club
Details: You're definitely never too old to love again. Four lifelong friends rekindle their love lives after reading "50 Shades of Grey".
Watch it with: Your sister from another mister. Don't forget to also redo your vows of being best friends forever.
2. Deadpool 2
Details: Wade Wilson battles ninjas, mutants and personal emotions in this hilarious follow up to the 2016 smash hit.
Watch it with: That guy in the squad who has the funniest and most ridiculous laugh. Seriously, the dude's laughter can cure cancer.
3. Kasal
Details: A simple woman (Bea Alonzo) encounters a complicated emotional dilemma when her past romance (Derek Ramsay) returns to help with her current flame's (Paolo Avelino) political ambitions.
Watch it with: Your friends who are currently struggling with their own problems with love and heartache. Just make sure to bring the tissues!
4. Solo: A Star Wars Story
Details: Ride the Millenium Falcon once again in this prequel journey about a young Han Solo and the important events that led to his debut in A New Hope.
Watch it with: You and your friends who are practically the biggest Star Wars fans in existence. May the Force be with you!
Watching movies is fun, but it becomes even more epic when you can score some freebies and discounts along the way. Luckily, SM Cinemas is here to make your squad's movie nights even more legendary.
Exciting freebies and discounts await Visa cardholders at SM Cinemas nationwide
Filipinos can now enjoy complimentary treats and rebates when they purchase movie tickets at any SM Cinema branch using their Visa cards.
Catch the following promos today until November 30, 2018.
Online Wednesdays
Beat the mid-week blues by making plans to watch a movie —for less. Get Php100 off when you purchase at least two (2) movie tickets at www.smcinema.com.  You can buy the tickets in advance to watch a weekend show, just make sure you purchase the tickets on a Wednesday to enjoy the offer.
To redeem the discount, all you have to do is click "Visa Promo Offer" on the payment options upon check-out, and enter your Visa card details as you pay. Php100 will be automatically deducted from your total bill.
Tap to Pay Fridays
There's no better way to start the weekend than by catching the latest blockbuster with your friends while you indulge on yummy snacks. At SM Cinemas, you can get a free regular popcorn and two (2) bottles of water from the Snack Time counter for a minimum purchase of two (2) movie tickets every Friday during the promo period.
This offer is open to all Philippine-issued Visa credit cards with a Tap To Pay (or Contactless) functionality.
To claim the goodies, simply pay for your tickets by tapping your contactless Visa credit card on the POS Terminal at the ticket booth, collect the charge slip from the cashier and present it, together with your card, to the Snack Time Counter. Make sure to tap your card when you make the payment. Swiping or dipping it into the terminal will disqualify you from the promotion.