Never Not Love You gives its audience exactly what it needs to see – reality.
Acclaimed filmmaker Antoinette Jadaone has worked with James Reid and Nadine Lustre when they were just starting to come into superstardom with their hit rom-com TV series On the Wings of Love.
Never Not Love You takes an approach to falling in love the way most people do. No grand romantic gestures, but rather, quiet surprises, one we all could relate to. As a Filipino millennial who's fond of watching original Pinoy films, it was a breather! Why? The story just revolved around two people trying to juggle a work-love balance, no need for car crashes leading to amnesias, or ungodly deaths to make it intense or more interesting, but what everyone experienced was just pure Jadine bliss.
Pure honesty — one that is raw, and one that's relatable. As the famous Maroon 5 song goes, it's not always rainbows and butterflies, its compromise that moves us along.
Who knew you could find love in the busy streets of Makati?
Joanne was on an errand for work when she first met Gio in the tattoo parlor he goes to. With her boss compelling her to get back to the office, even after hours, Gio sees it as an opportunity to help her by taking her there on his motorcycle.
From then on, their love story unfolded fast and wild as they strolled hand in hand along the streets of Buendia, the frequent convenience store dates, the sultry kissing scenes, until everything just simmered into a cozier kind of love, the one that feels like home. Ebe Dancel's "Prom" played a major role in setting the cute lovey dovey scenes we all crave for, both for our JaDine hearts and ourselves.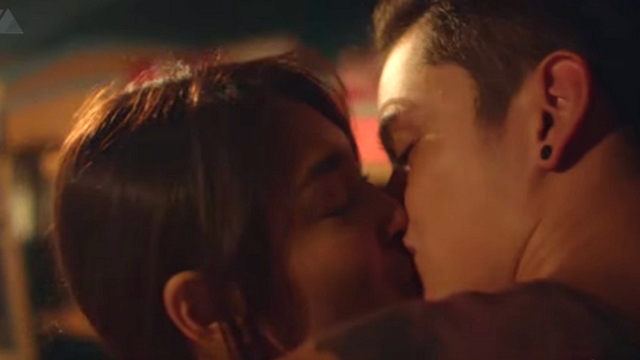 Everything seemed okay until Gio took a job offer based London and Joanne remained steadfast in fulfilling her dreams of becoming an assistant brand manager along with other aspirations entangled with this goal.
The maturity of the relationship grows as they receive advice from friends and realize things on their own. One has to set aside childish thoughts to make room for sensible ones that aren't selfish. It takes time and effort for things to work out, and truly, it was the best Jadine film to date.
We don't know what the future holds. That's one of Jadaone's special sprinkles in the formula of the film: uncertainty. An uncertainty of the future, and a love that braves the uncertain.
Content by: Kaka Corral and Jia Mercado