Manny Pacquiao is the People's Champ, the legendary boxer who continues to bring pride and dignity to the Filipino people with each of his bouts.
And while Senator Manny mentioned that he isn't planning to run for president of the Philippines just yet, he isn't closing the door on the presidency either.
"Hindi naman natin sinasabing sarado. Ang pagiging Presidente ang Panginoon ang naglalagay dyan… Masyadong mataas yan para pangarapin. Gamapanan natin yung trabaho natin para marami tayong matutulungan na mga Pilipino," he said when asked if he would change his mind.
"Wala pa sa isip natin yan, focus tayo sa trabaho natin," Pacquiao told reporters.
Well, we thought of a few things that could happen if he were to have the highest position in the land:
1. Holiday lahat ng boxing matches niya
All of his boxing matches can become holidays so that all the Filipino people can watch our dignified president beat the crap out of his opponents.
2. Boxing would become the national sport of the country
Forget arnis. Forget basketball. Boxing is the new in and it's going to be epic for all those training to be the best in the ring.
3. Going to church every Sunday will be mandatory
Ah, let's not forget to get in touch with our spiritual side with the Lord our God, alright?
4. Every State of the Nation Address will have gospel readings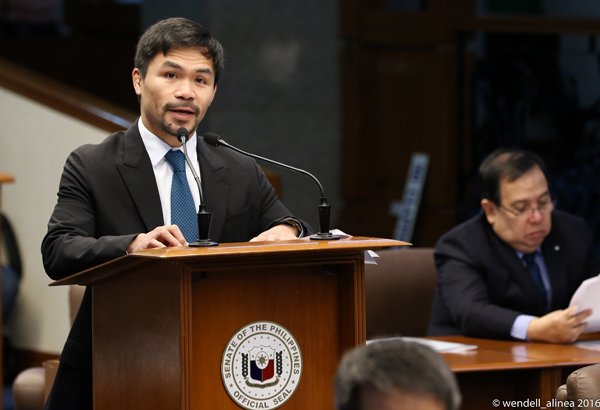 And since we're one of the largest Catholic countries in the world, we should get up close and personal with all of his SONAs as well as the gospels in the bible.
5. And Mommy Dionisia will still be at every Pacquiao fight, both inside the ring and in his presidency, cursing all his opponents
That's just motherly love, fam. #NoH8