As Ferdinand 'Bongbong' Marcos Jr. sits on disqualification cases that threaten to derail his 2022 presidential campaign, pro-Leni supporters are undoubtedly salivating at the thought.
After all, a DQ would carve an easier path for VP Robredo, who trails Marcos Jr. at second place in the majority of reliable pre-election surveys. Few could match the reputation, familiarity, and career record that Robredo enjoys.
Senator Manny Pacquiao, as great as his legendary boxing career has been for his political career, will soon discover that every adoration has its limit. Mayor Isko Moreno grossly overestimated his popularity, relying on premature surveys to dictate his aspirations. And Sen. Ping Lacson has neither the charm nor resonance to catapult him into the presidency.
So any practical 'kakampink' would pray for Marcos Jr. to be DQ'd. But those with foresight, those who realize the impact of narratives in politics, would see that it's actually a bad idea.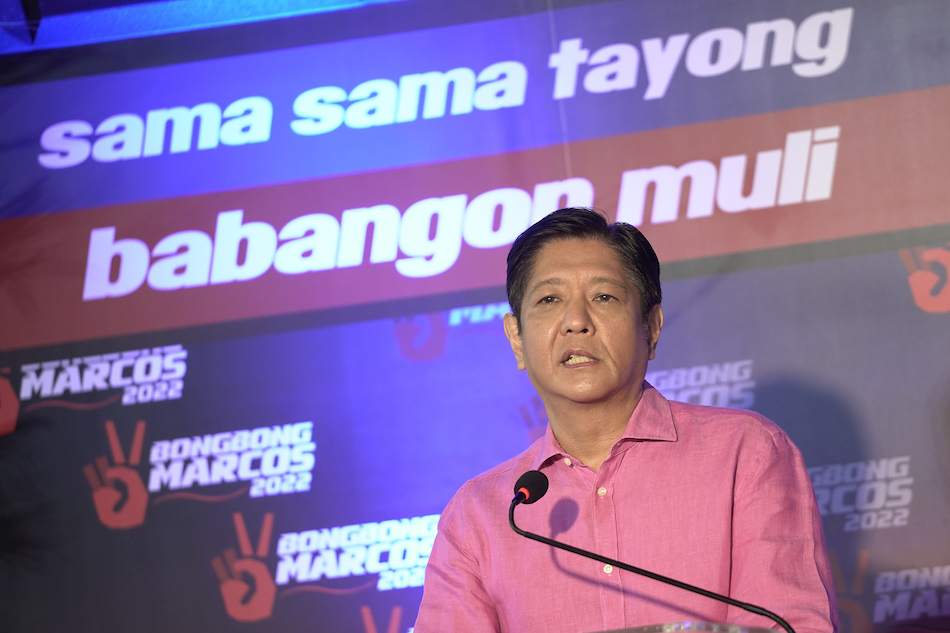 Narratives in politics
Successful presidential campaigns are born from compelling narratives. Duterte won because he shat on the 'oligarchs' and 'elites' (don't be fooled, he's one of them too). A presidency prior, Noynoy Aquino banked on his mother's legacy. The late Cory did the same to her husband a generation earlier.
In the present day, narratives are more powerful than ever, thanks to social media. Marcos Jr. is running on the pretense that his family's exile in EDSA 1986 was a mistake, and that he could bring back the 'glory days' of his father's regime. His fanatics echo these revisionist storylines ad nauseam, from YouTube vlogs to Facebook and Tiktok propaganda.
Marcos Jr's losing on a technicality only fuels this well-oiled misinformation machine. Accusations of cheating by a 'Dilawan' government will abound. Endless recounts will be appealed. Conspiracy theories and questions of legitimacy will flourish. Talks of a Marcos 'redemption will persist.
These narratives are not ideal scenarios for Leni, whose entire campaign rests on the promise of a 'Daang Matuwid,' a return to a more stable and unified version of governance. More than just a win, a 'clean' one is needed.
Ending the controversy once and for all
VP Leni realizes the power of narratives. She cites her 2016 electoral win, which Marcos Jr. refused to acknowledge despite a recount and a unanimous Supreme Court ruling. In an interview with CNN Philippines, she also prefers to beat Marcos Jr. in the 2022 polls.
'Kung naaalala mo, nung natalo ko siya sa 2016, dahil ino-own niya yung social media, ang daming naniniwala na dinaya ko siya. Kahit ilang beses pa ako nanalo sa Supreme Court, ito yung narrative na pinu-push niya', said Robredo.
'So kailangan talagang talunin siya sa susunod na eleksiyon. Para, once and for all, mahinto na yung ginagawa niya na pagpapaniwala sa tao. Nung narrative na gusto niyang i-push.'
While an easier path to the presidency is the ideal scenario for her supporters, we mustn't forget that Robredo and Marcos Jr.'s fates are intertwined. The latter will always haunt the former, unless an unquestionable win proves Robredo truly is Marcos Jr.'s kryptonite, and that the last man standing is indeed a woman.