From anticipating Kiddie Meal toys to munching on your fave staples like Chickenjoy and Yumburger, Jollibee has been around for the longest time in the Philippines. But the Filipino fast-food chain recently launched its first-ever branch in Spain that got thousands of people lining up.
While Jollibee's Madrid store opened on September 23, people started lining up at 10 pm the previous day. Customers bought "emerging Europe bestsellers" like Spicy Chicken Burger, Sriracha Chicken Loaded Fries, Tropical Chicken Burger, and the OG Chickenjoy. It also has an exclusive full-sized palm tree that can only be seen in that specific outlet.
Opening a branch in Spain is part of the brand's goal to have 50 stores in Europe in the next five years. The outlet launch also increases the food corporation's network of over 1,400 restaurants worldwide, including places such as Singapore, Hong Kong, New York, Rome, London, Los Angeles, and Dubai.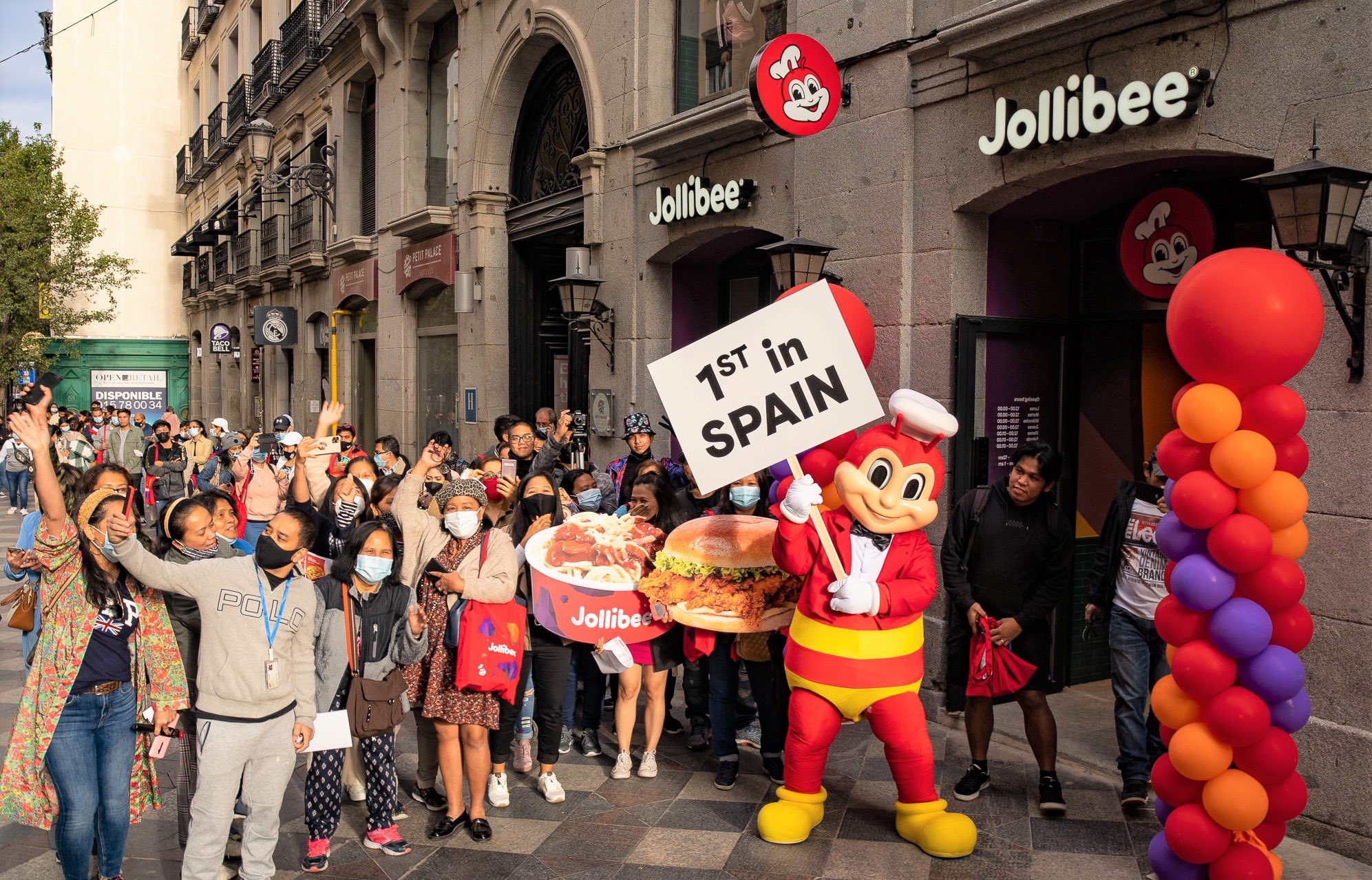 Jollibee Group CEO Ernesto Tanmantiong said in a statement that the Madrid branch is a major milestone in the food chain's history and international expansion. He added, 'The heartwarming reception to our opening in Spain inspires us in our journey to bring our much-loved Chickenjoy to more countries in Europe, and is in line with our vision to become among the top five restaurant companies in the world.'
Even if Jollibee's Madrid debut is thousands of miles away from the country, Filipinos joined the celebration through Twitter. A user turned the food chain's meals to Noli Me Tángere characters like 'Crisostomo Yburger Steak' and 'Sisapaghetti'.
One user playfully said that the location looks like it's situated in Intramuros, while others called it reverse colonization, referring to when Ferdinand Magellan claimed to have "discovered" the PH in 1521. But this time, they joked that Jollibee found Spain in 2021.
Spain "discovered" the Philippines in 1521.
Jolibee discovered Spain in 2021.
500-year gap.

— Azarcazm (@azarcazm) September 24, 2021
Fun fact: The island of Homonhon where Magellan first landed is actually shaped like a Chickenjoy.
It's destiny. pic.twitter.com/2heyC02WEx

— Jason Rodriguez (@JasonR_EG) September 24, 2021
Jolli Be Tangere

Starring:
Crispin-licious Chickenjoy
Crisostomo Yburger Steak
Padre Palabok
Sisapaghetti

— Jason Rodriguez (@JasonR_EG) September 24, 2021
Ah yes, reverse colonization. We've come full circle.

— Andrei Bucton (@AndreiBucton) September 24, 2021
Intramuros 'to ah!! 😅

— ros (@janros_) September 24, 2021
Banner: Twitter/Ted_Cordero