John Cronin never lets Down syndrome hold him back. "We're spreading happiness through socks."
John's Crazy Socks is an online sock shop based in Long Island, New York run by John and his dad, Mark Cronin.
The business has made over $1.4 million in revenue.
At first, the 21-year-old entrepreneur wanted to start a fun store, although they didn't quite know what a "fun store" was. The next idea was a food truck because John and Mark had watched a movie about a father and son working a food truck. However, the problem was simple: "Both of us can't cook."
Then a light bulb moment came. "I wanna sell socks because I wore crazy socks my entire life because I do something like fun and be creative," John said to BBC.
There are over 1,500 different socks on the online store. They have no show socks, ankle socks, crew socks, knee high socks, above the knee socks, and a lot more.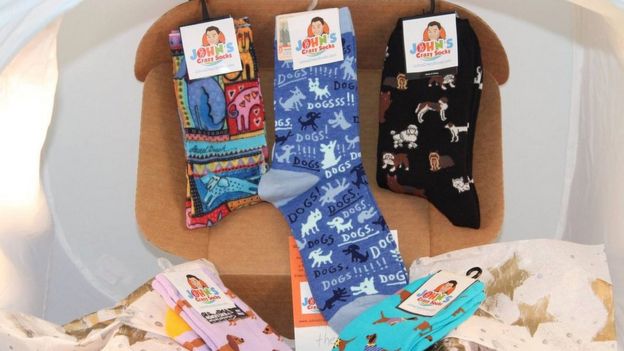 Customers get sweets and a thank you note when they order. If you live in Long Island, John delivers them himself.
According to BBC, the company has over 12 full-time staff, eight of whom have some form of disability. 5% of the profits go to the Special Olympics and John is a long-time Special Olympics athlete "who has benefited greatly from the program."
"We're working to show what people with disabilities and learning disabilities can do," Mark told BBC in an interview.
"When I talk to employers I tell them it is absolutely imperative that they hire people with disabilities. Not because it's the right thing to do, not because they're nice guys, but because everybody is looking for good workers."
"This is a vast, untapped pool of great workers."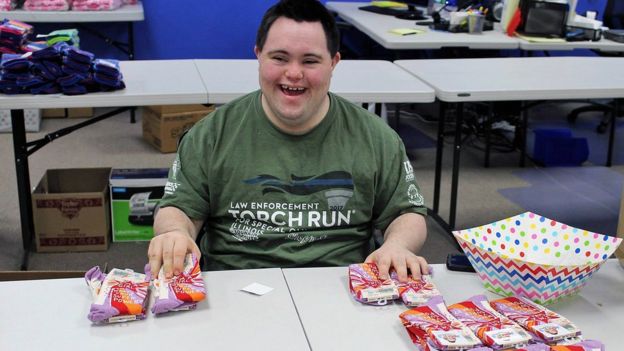 John designs "awareness socks" himself to help raise money for charities:
Their mission is simple: to spread happiness through socks.
"We've been asked, well what do you do when you have a conflict? We really haven't had any. It's been a joyride," Mark mentions.
"We've always been very close and always spend a lot of time together. It's a very good partnership because we both share in the mission. We both know we need each other. If this was John's Serious Socks, it's not really going to be working."
"And we're having fun," Mark adds. "We're spreading happiness. What's better than that?"
You can browse through their online shop here.