The following is satire – obviously.
It's been 35 years since the COVID-19 pandemic allegedly happened. I say allegedly because the COVID-19 pandemic was not real. There, I said it, kids.
Before I share why it is, kindly take note that this is my opinion. These are my thoughts, so please, respeto na lang.
It never happened to us.
When I first started this letter in 2021, there were more than 68k active cases of COVID-19 in the Philippines. Overall, there have been 2.7 million Filipinos affected by this virus so far – or so they say.
The thing is, in the two years since the 'pandemic' started, I've had yet to get sick. So does my family. For me, it's been two years of work-from-home, commute-less days (thanks, lockdown!), and splurging on food deliveries.
If there was any real threat, it was boredom and me running out of things to binge on Netflix.
You might ask: why do I need to get sick with COVID to believe? It's 'cause personal experiences are the only reliable source of information. If your lolo/lola doesn't get sent to the ICU, or your tita simply gets a runny nose, then COVID-19 isn't that bad- if it's even real.
What about the death tolls? There's this thing called propaganda. It's where the "system" will spend millions to invent a "virus", create thousands of eyewitness accounts, bribe every organization known to man, for the sole purpose of fooling you.
Yes, my child, because everything is about you and your point of view.
Instead, learn to think independently. Think about it. 40,761 deaths, but where were the bodies? My neighbor, at the time, was still standing. Don't listen to your doctors, health experts, or anyone who knows more about you.
If they do try to educate you, cancel them. Your doctor diagnosed you with cancer? Woke. They say you have an STD? Elitista. Did they recommend choosing healthier food sources? Nagmamarunong.
Personal experience is king, and that is something your local vlogger has an overabundance of.
The economy collapsed daw.
Here's another lie propagated by the 'puti' at the time. Yes, puti because of the lab coats, and also since the CIA is responsible for this conspiracy.
They said the economy suffered during the pandemic. Many went jobless daw, businesses closed down, and people were lining up in droves so they could eat. I call bullsh*t.
How could the economy have collapsed when the infrastructures were intact? Skyway Stage 3 opened in the same period. "Build, Build, Build" was in full effect. "Struggling" businesses? Please. Lazada and Shopee were online, and SM, Shang, and Robinsons malls are still standing to this day.
As for the 4.8 million families that went hungry? My friends and I were ordering food on apps all the time. If people DID go hungry, it wasn't that bad. Some of them probably claimed they were just to get an ayuda.
It wasn't that bad.
In the end, I was forced to follow rules for a virus that did not exist. The government told us to wear face masks, shields, and get vaccinated. It felt like a dictatorship, to be honest.
The mainstream media also promoted these ridiculous stories, such as an inefficient vaccine rollout, and a pharmaceutical company that defrauded millions of pandemic funds. Again, bullsh*t.
I lined up for the vaccine, and I got mine with no problems. So what if the Philippines has the longest lockdown in the world? We were just being careful, something the world can take notes from.
Also, last I checked, there were still doctors and nurses wearing PPEs in hospitals, so I don't understand why they rally and say they're "overwhelmed" or "underfunded".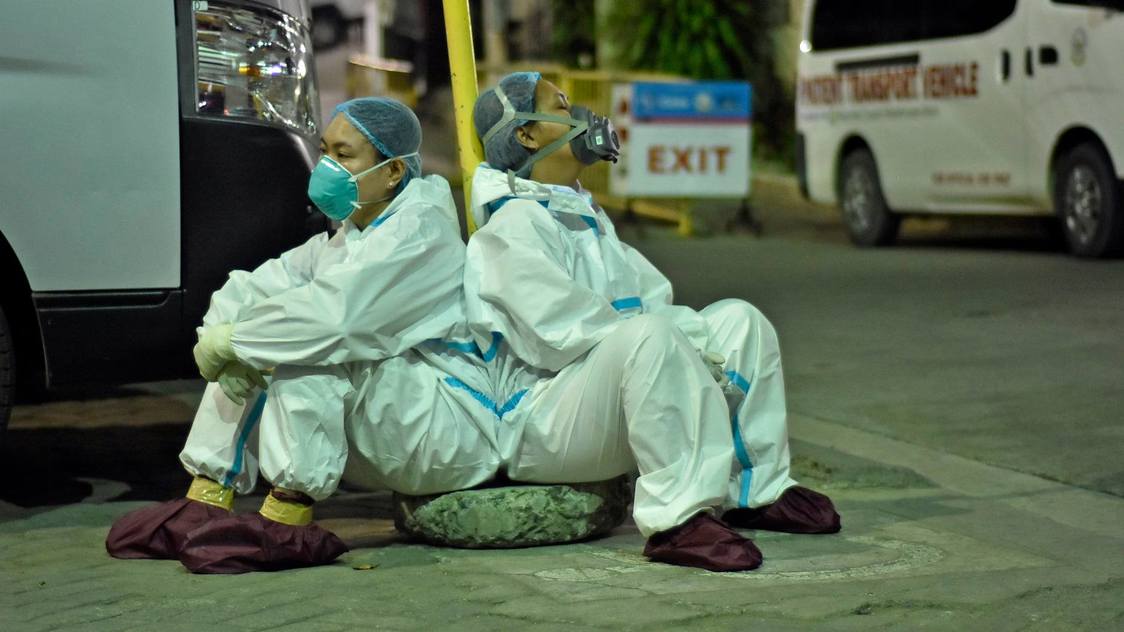 In truth, kids, life with COVID was easy, far from the biased and horrible landscape that the media likes to paint. Those who did suffer are the pasaways, those who went out to work, or ungrateful doctors who didn't know to appreciate the government.
Walang perpektong gobyerno. Kahit marami man isyu o kasalanan, basta ang importante, nakatayo parin ang Pilipinas.
At kung hindi kayo naniniwala, ako ang ebidensya. Pati mga lolo't/lola niyo. Nandito parin kami diba? Kaya walang COVID. Imbento lang nila yun.
Got a story to share? Send yours to [email protected]