Expressing one's gender identity isn't something that's only for one day or one month.
LGBTQ+ students shouldn't just be limited to expressing their gender identity on campus only during Pride Month or special school activities. Isn't it discriminating to only allow them to express their true selves when they're outside their universities?
Talk about gender expression began online as candidates for Leyte Normal University's student council shared their views on the dress code within the school.
Nakakadismaya ang pagtingin ng student council candidates sa Leyte Normal University sa mga isyu. Mukhang kailangan nilang lahat ng SOGIE orientation. Kalungkot. pic.twitter.com/WZ808A4sOg

— Jerry B. Grácio (@JerryGracio) May 25, 2023
The students said that they were accepting of the LGBTQ+ community and that they're all for letting people express their gender, but they had a big "however." Almost all of them had reservations because of the school's policy and "values" that they "have to uphold." But what is it about a trans female student, for instance, dressing in a skirt that's against these said "values"?
One student said that the student council can hold activities to let students "that will enable them to express their gender" just like Pride Month and "TikTok competitions" for makeup. Another said that she's "open to gender expression but in moderation." Is it expression still if there's moderation?
This isn't actually the first time the university got in hot water because of its dress code policy. In 2019, they drew flak from netizens and YouTube personalities Manny Mua and Bretman Rock for using the influencers' photos in their "improper grooming" poster.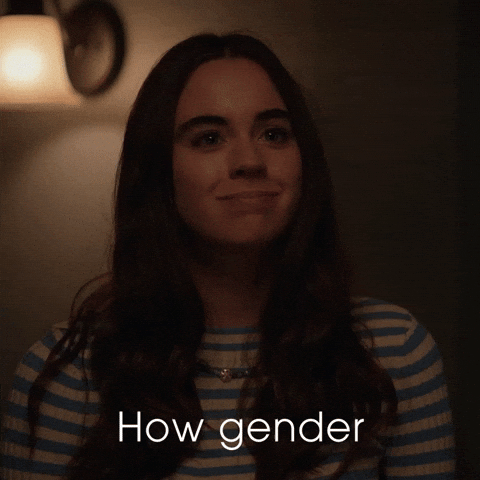 What's needed badly in this country is the SOGIESC bill that would protect Filipinos (yes, even the heterosexuals) from discrimination when they're expressing their sexual orientation, gender identity, gender expression, and sex characteristics.
ICYDK, gender identity is someone's internal and individual experience of gender—whether it's being a man, a woman, a non-binary person, or anywhere along the gender spectrum. On the other hand, gender expression is how a person publicly presents their gender.
In September 2022, the Department of Education (DepEd) released a memorandum directing the "strict implementation" of the Gender Responsive Basic Education Policy which allows LGBTQ+ students and teachers to express the gender they identify as.
More steps are also being taken for more inclusive uniforms in schools. A bill was passed in Senate proposing to give female students the option to wear pants if they want to.
Why gender expression shouldn't be stifled
Everybody has their own way of expressing their gender with how they dress or behave and it's all an important part of your self-identity. Sex (our biological attributes) and gender are not linked and fixed. Not all females are comfortable in what society deems as feminine clothing like skirts or blouses.
Stifling or hiding gender expression usually stems from fear of negative reactions, violence, or discrimination from the public. And this kind of suppression, which transgender people experience more, raises the risk of anxiety and other mental health disorders.
If people were more supportive of students who express their gender on campus, LGBTQ+ kids would not be as afraid to just be themselves. They can still dress according to whatever's deemed proper on campus anyways. Then again, dress codes in schools are archaic and often unfair because not all students are able to afford uniforms but that's a whole other conversation. This whole discourse about gender expression and dress code only further proves that we need the SOGIESC bill in the Philippines.