RECAP: Janella Salvador recently confessed that she suffered physical abuse from co-love team and rumored bf Elmo Magalona.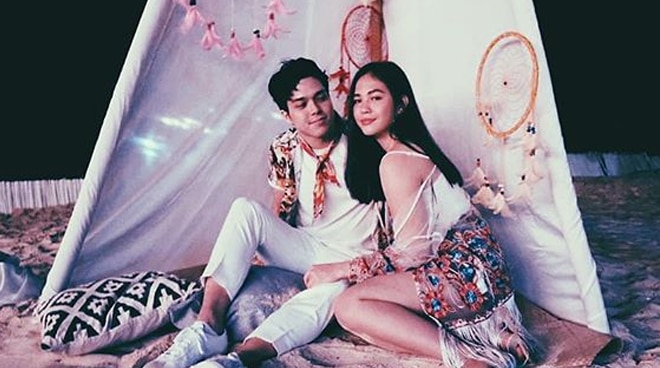 The incident allegedly stemmed from an argument which the pair had after attending a party where Elmo apparently took 'one drink too many.'
It also marks the second time that such an abuse happened. The first occurred months earlier, which saw the actor begging for forgiveness, promising that 'he wouldn't do it again.'
Twitter user @deliahcakes went so far as to post a vid which supposedly shows the fresh bruises Janella sustained.
Here's the video. An ig stories by a friend three weeks later. You can still see her bruises. She also has shoulder marks. pic.twitter.com/LkCPTFTndK

— # No To Abuse ! ? Janella fan (@deliahcakes) October 24, 2018
Netizens were understandably shocked by the entire revelation and it opened up an entire discussion on the issue of abusive relationships.
So what if there are two sides to every story, so what if Elmo was provoked and they were in an argument…Unless Elmo comes out and says janella assaulted him as well, I STAND WITH YOU @superjanella. Physical violence is never the answer!

— baby groot (@mermaidjea) October 24, 2018
it's so embarrassing to see comments defending elmo from what he did to janella. like hello??? doesn't matter if she's gay as ya'll claim she is or what— she was abused. twice. get that inside your head.

— Charm 쀼?? (@yookjoyiah) October 24, 2018
Y'ALL Janella Salvador spoke up about being physically abused by Elmo Magalona!! Why would anyone think it's okay to lay a hand on their partner?? Who the fuck raised y'all????? pic.twitter.com/mkoGiUnkxH

— ? ? ? ? ? ? (@hoyripli) October 24, 2018
Since this is doing numbers, I want y'all to know it is never accepted to hit your partner. No excuses. No "I was drunk sorry", "I was just mad". Once your partner lays a hand on you, leave. Tell your friends, your family, and take photos for evidence.

— ? ? ? ? ? ? (@hoyripli) October 24, 2018
Others saw it as a reminder
This Janella-Elmo issue is giving us a lesson. In a relationship, never tolerate cheating, jealousy, disrespect and abuse especially physical abuse. These are the critical things a person who is supposedly madly-in-love with you should not be doing. #NAKIKISHOWBIZ

— RHALLY wιтн ℍ? (@mimimzgpeight) October 24, 2018
I know a few who are battered by their men. And my advice?

Iwanan mo. Our mothers did not suffer birth pains for men to lay hands on us.

— Erin?Fordy (@iamUrKhaleesi_) October 24, 2018
One shared her story- and explained why some choose to stay in such toxic relationships
Don't blame Janella for not speaking up on the first time she was physically hurt. Sometimes you just want to forgive the man and give him a second chance. Call it stupid but yeah, it happens. And i salute her for speaking up this time. Be strong, Jea.

— Erin?Fordy (@iamUrKhaleesi_) October 24, 2018
My ex used to abuse me physically & verbally. Took me years to surrender. Bec he was my first bf and i did not have friends to turn to bec he did not allow me to have friends. He was my world. Tanga lang.

— Erin?Fordy (@iamUrKhaleesi_) October 24, 2018
So when I went to college and met new friends, it was when i realized that life is beautiful and i am loosing it be i wasted my time allowing someone to abuse me. And one day, i just disappeared. I left him a message to not go anywhere near me.

— Erin?Fordy (@iamUrKhaleesi_) October 24, 2018
So girls, always keep your friends at bay. Do not let your men choose who you can be with. Time will come when you'll need to hold on to these people. Build your support so when time comes you are abused, you will be strong enough to fight back.

— Erin?Fordy (@iamUrKhaleesi_) October 24, 2018
To all abusers out there
Banner credit: showbiznest.com