Chadwick Boseman is ramping up a ton of blessings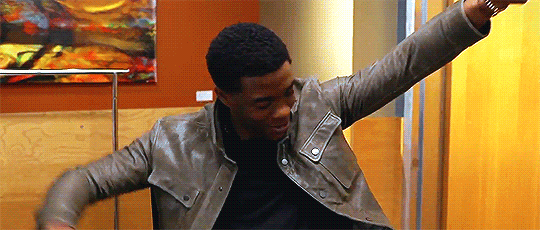 He starred in two high-grossing films in Black Panther – which garnered a lot of recognition and love throughout the black community…
… and Avengers: Infinity War, one of the highly anticipated films of 2018…
…so it wasn't a surprise when he won the MTV Movie Award for the best hero.
What we did not see coming, however, was Chadwick Boseman honoring James Shaw Jr., better known as the man who disarmed an armed shooter in a waffle house in Antioch, Tennessee.
Or wait, maybe we kind of did… He is, after all, the King of Wakanda.
"This is going to live in your house," Boseman says to Shaw as he hands him the Golden Popcorn award.
Speaking of Wakanda, castmate Michael B. Jordan also bagged an award as Best Villain of the Year.
His acceptance speech includes him pleading the pvblic to stop asking Chadwick Boseman to do the "Wakanda Forever" salute every time they see Chadwick in the streets, earning a lot of laughter from the crowd.
However, on Twitter, Chadwick confessed that Mama Boseman was a tad, bit disappointed that his son didn't do the Wakanda Salute at the MTV Awards, so here's Chadwick tweeting a boomerang of him doing what his Mama asked him to.
In front of the Arco della Pace a Milano, no less.
Oh well, I guess from now on it's Wakanda Sometimes…
Wakanda Occassionally?
Wakanda Weekends?
THE MAN DOESN'T WANT TO DO IT ANYMORE
The year is 2045. Chadwick Boseman hasn't played Black Panther for years. A fan asks him to do the Wakanda forever pose for a photo for the millionth time. Enough is enough. He drop kicks the fan and is finally free.

— Dan? (@DanHopkins97) May 13, 2018