If Catriona Gray was over the moon with her Miss Universe win, we're willing to bet it was nothing compared to what her parents were feeling.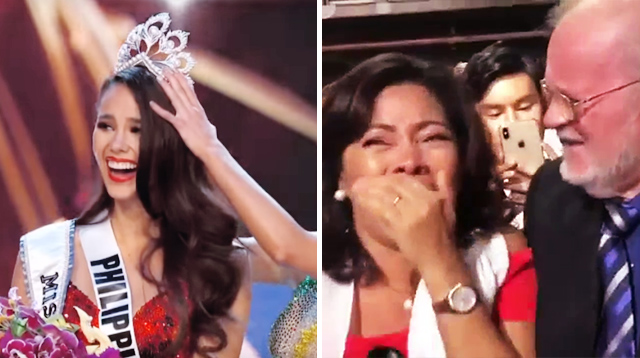 Twitter user @MikeinCambodia – who was seated near Catriona's parents (Ian Gray and Normita Magnayon) – managed to capture the couple's reaction when their daughter snagged the crown.
Netizens also couldn't resist being moved by the display
I've watched it several times and can't stop my tears from falling. Thank you for your support?.??

— jorin apostol (@im_jorzkiejor) December 17, 2018
I never cried about her winning until I saw this. Every parent will be so proud with a daughter who have such a great talent and sincere heart. ❤

— when moon rise it's your time (@iwrotetothemoon) December 17, 2018
??? Beautiful capture! I'm crying!

— ? ૨ɦσɳα ɱα૨เε (@bakedmacarhona) December 17, 2018
Instagram fan account catrionauniverse gave a better look at the pair's unfiltered emotions, and it's enough to make anyone – including us – cry.