The Anti-Terrorism Bill has caused outrage for its potential to violate the basic rights of Filipinos, such as freedom of speech, the right to privacy, and its increased empowerment of government agents.
Under its provisions, any suspected terrorists can be arrested without a warrant and detained for up to 24 days. It also has a broad definition of 'terrorism', as it includes 'people who provoke or influence [through] intimidation', meaning activism could be considered as such.
Its critics argue that the proposed law is prone to abuse against government opposition. Many would be happy to see it dissolved altogether, as seen with the hashtag #JunkTerrorBill. Others propose tweaks or amendments.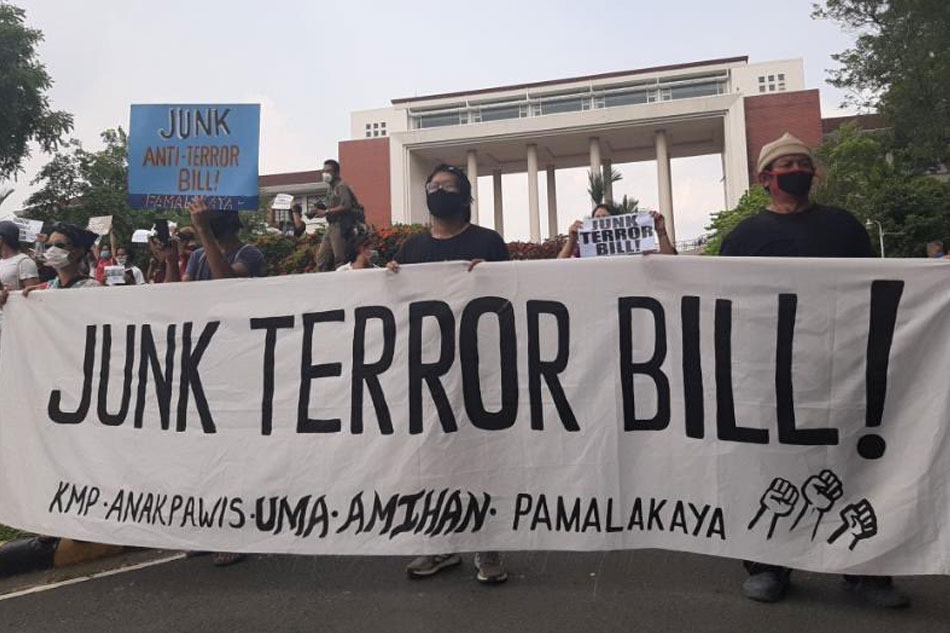 Its defenders, such as Defense Secretary Delfin Lorenzana, Senator Tito Sotto, and Presidential Spokesperson Harry Roque, argue that there are enough safeguards in place to prevent such exploitations from happening. But still, these claims did little to allay the public's fears.
The persistence of concerns leads to one glaring truth: Any law, regardless of purpose, amendments, or safeguards, is sullied by the reputation and actions of the current administration.
Does the Philippines need an update to the Human Security Act of 2007? Some would say yes. Terrorism has evolved during the last 13 years, and the country has been caught 'flat-footed' since then, as seen in 2017's siege of Marawi and 2019's Sulu cathedral bombing.
'The current face of terror in the Philippines has changed', said Rommel Banloi, chairman of the Philippine Institute for Peace, Violence, and Terrorism Research to ABS-CBN News. Banloi, who served as one of the advisers in crafting the bill, cited that current law had 'no power' in dealing with recruitment and propaganda by extremists on social media.
But the idea that a bill holds such power, even if it has noble intentions, would be enacted under a presidency that has been decorated with human rights violations, flip-flopping stances on whether 'the law is truly the law', and a leader that doesn't like to be criticized, is simply unfathomable for many.
The bill's supporters could repeatedly downplay that abuses won't happen, but when everything else points to the contrary, where do people turn to for assurance? What stops their fears from escalating?
The Anti-Terrorism Bill, despite its purpose, supposed safeguards, and potential to be amended, will continue to fuel outrage and paranoia, well after it's inevitably signed into law.
A lawmaker could call critics 'epal' all he wants, but the level of distrust that many citizens have against their government – a byproduct of years of corruption and injustice – is simply too great.
Banner: Human Rights Watch