ICYMI, there is currently a hullabaloo over what it means to be a 'good friend'. Apparently some of us – including our fave sadboi – have a skewed view of the concept of friendship, which could potentially lead to toxic relationships.
The general idea is that you would do anything – and I mean anything – for a friend, especially if they did you a favor. Doesn't matter if they are a manipulator, who's clearly playing you for a fool while your neighbors watch. Loyalty, as this flawed mindset promotes, is the only thing that matters.
Now, I attribute this way of thinking to a misguided sense of 'utang na loob'. It's a trap card that is often abused. The convo goes: 'You owe me, so you have to go against common sense and do something undesirable'.
But what I'm here to tell you is that a true friend will never put you in that position in the first place. In fact, there are many things a person won't let you do if they truly have your best interests at heart.
A good friend will respect your seas – I mean, space
Just because you're their friend, doesn't mean they'll invade your personal space. It's totally okay if you don't text every day. They understand if you need some 'me time'. They know when it's appropriate to hang out at the West Ph- erm, at your home.
A good friend is mindful of your boundaries and will take great care not to overstep their place in your life.
A good friend won't make you look like a dumbass
A real friend won't treat you like an inept, spineless fool in front of others just so he could flex his strength. In fact, they'll do the opposite: in their eyes, you're probably the most badass mfer to walk this planet.
And even if they do sense weakness, they won't take advantage. Instead, they'll lend a helping hand. Sure, they might tease and throw jabs while they're at it, but this is usually done in private or with a close-knit group of similar-minded friends.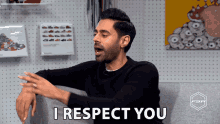 A good friend won't abuse you
Now, I'm not gonna say that calling in a favor isn't a thing because sometimes, you do need a buddy to help you get out of a rut. But a true friend knows that it's common courtesy to not abuse another's good faith, regardless of how deep the bond is between them.
And in terms of owing favors, if you're lucky, the real ones would just waive it off out of the goodness of their hearts. But in case they do ask something in return, it won't involve you sacrificing your obligations and your morals.
That is, if you still have any.