Many try to copy the John Lloyd Cruz magic, but only Lloydie could outdo himself.
1. When he does that cute baby boy smirk?!??! To die for.
2. When Lloydie makes unwavering eye contact as if he was looking through your soul
3. When he wears a suit and winks at you???? GURL MY WIG
4. When he makes that sad "ang sakit sakit na" face and walks away. Come to mama baby boy 🙁
5. Basically every time he teared up in his own Lloydie way, it made our hearts a lot softer. The John Lloyd Cruz crying face has us on the hook :c 6. Ang sakit sakit na, Bash.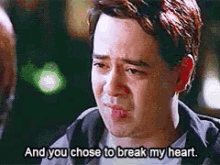 7. When he did the rain dance
Sobrang cute di ko take
8. When we get a frontview of his wide grin and all it can do is make us melt???
The pvblic can get a lot more of that with exclusive kilig videos of Lloydie on the new Jack 'n Jill Magic app.
DEAD. Labyu Lloydie!