Pride month might be a few months past, but that doesn't mean we should stop celebrating love. Especially now that the hype for Billie and Emma, a new LGBT-themed movie, is strong.
Even though we've come a long way from the dark ages, our society still has a long way to go when it comes to being more accepting to the LGBT community.
Movies are a great way to educate people, whether you're a part of the LGBT community and want someone to understand your community's perspective or you're simply looking for inspiration.
Here are five local movies that will inspire you and make you realize that love truly wins.
1. Baka Bukas (2016)
From the same director of Billie and Emma, Baka Bukas follows the story of two close friends Alex and Jess. The former is a lesbian who works in the creative field. Everyone is aware of her sexual orientation — well, all except her best friend Jess whom she is secretly falling for. Baka Bukas tells the hardships of young professionals who can't go out of the closet for fear of losing their jobs.
2. Sayaw ng Dalawang Kaliwang Paa (2012)
Art lovers will surely love this movie as it uses poetry, music, and dance to tell about a love triangle between two college boys and their literature professor. During class, Marlon develops a crush on their professor Karen who also happens to be a dance instructor. Wanting to be closer to her, he then enrolls in one of her classes. He tags along Dennis, a fellow student, who has a crush on him.
3. Ang Bagong Pamilya ni Ponching (2016)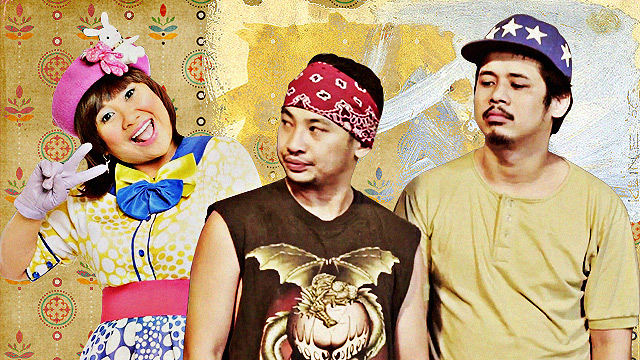 Although this movie does not really focus on the LGBT, it still has some elements that will make people understand their struggles more. Ponching is a poor thief who started venturing into text scamming. He coincidentally sends a message to the family of a man who just died and was mistaken for the man's bastard son. Ponching pretends to be that person for a while until he becomes attached to the family. He became too close to them to the point that he discovered that one of them is a member of the LGBT community and has been in the closet for years. This film shows, even for just a few minutes, how the LGBT community struggled back in the old days when people were less accepting of homosexuality.
4. Bwakaw (2012)
Rene came out of the closet at the age of 60. Being past his prime years, he thinks it's too late for him to find love. He lives a lonely life and decided to spend his remaining years on earth preparing for his death – he already paid for a coffin and wrote a last will. One day, he came across a stray dog whom he adopted and named Bwakaw. He became easily attached to the new member of the family and when Bwakaw fell ill, he was desperate to have him cured. Sol, a tricycle driver, befriended and helped him get Bwakaw to the vet. He falls in love with Sol and little by little, Rene starts to find meaning in life again.
5. Die Beautiful (2016)
As the title of the movie literally suggests, it is about the wake of Trisha, a transgender woman who wanted to be presented as a different celebrity for each day of her wake. As her friends dress her up, they vividly recall her struggles and achievements in life. Her dream was to become a beauty queen, which her conservative father was strongly against. Die Beautiful depicts the discrimination experienced by not only the transgenders but the whole LGBT community.