New year, new drama
Not a few weeks into the year and Nadine Lustre almost seems to have had it with 2021 – and honestly, same.
Taking to Instagram stories to dispel recent news reports that she herself Tweeted out pics of her bikini bottom-wearing hike (FYI, Queen Nadz doesn't have a Twitter), the actress posted a grayscaled 3-story announcement calling for a little bit of fact-checking, please.
'I don't have Twitter.'
'Di na ba uso fact-checking ngayon? 2021 na oh. anuba.'
She then explained that she was only wearing a bikini bottom in the viral photos because her denim shorts had gotten wet during the hike, contrary to comments once again teasing her as a 'hubadera' and hiking without bottoms.
'Ikaw kaya magsuot ng basang maong habang naghihike.'
'I can't believe people really assumed that I hiked in a bikini. Balakayodiyan. Babalik na ko sa ulap.'
Meanwhile, this wouldn't be the first time that the Prez has called out false news over IG stories, as back at the start of 2019 she called out a columnist for first calling the controversial breakup between her and James Reid.
She ended the then-scalding call-out post with the new decade mantra: 'Anu na, 2020 na!!'
Queen of predicting how bad the year would go, TBH.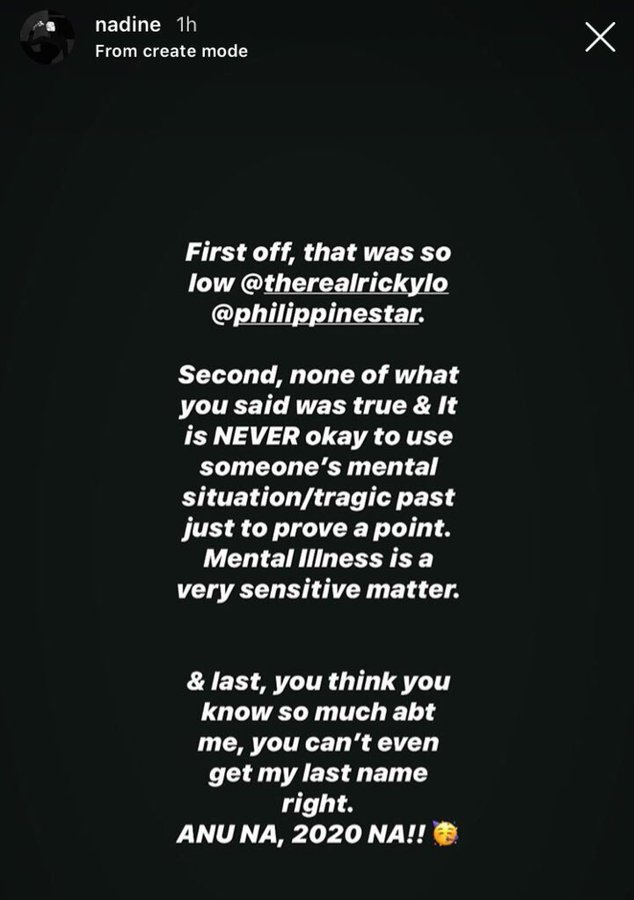 If you've been faithfully keeping track, this serves as the 4th year that Nadine has left little nuggets of quotable wisdom at the start of the year, from 2017's 'C'mon guys, it's 2017' to '2018, wala na bang bago?', to 'It's 2019! Stop shitting on other people. Be kind. Always'
I don't know about you, but '2021 na o. anuba' really captures that collective spirit of being completely over the BS from the past era.
Meanwhile, fact-checking has been a longtime problem with social media, and not just for celebs like Nadine. Instances like nationwide trials, trial by pvblic trial, and downright cancel culture has made the art of fact-checking unfortunately almost abysmal by today's standards.
No emojis, no exclamation mark. Just 'anuba'