Hey, it's Sam. Sam Smith. and Brandon Flynn. Kissing.
Sam Smith and 13 Reasons Why heartthrob Brandon Flynn were spotted holding hands and kissing along the streets of New York City on Monday Night.
According to People, they were spotted grabbing dinner at Catch NYC with a couple of friends.
Jealous yet? You will be.
1. Because Brandon Flynn.
2. Because Sam Smith.
3. Imagine being sung to by Sam Smith every waking day of your life?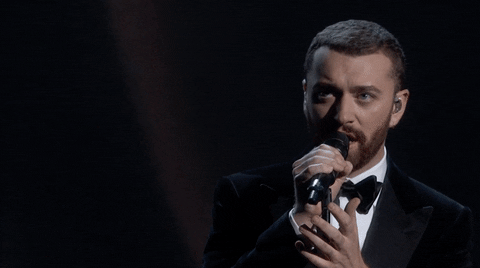 4. Imagine waking up to Brandon Flynn every waking day of your life?
5. Because they look like they're in the loveydovey stage of their lives.
6. Because they kissed. IMAGINE KISSING ANY ONE OF THEM??
7. Because Sam Smith will make you stay with him with that smoldering gaze 8. We're hoping Sam isn't too good at goodbyes with this one.
9. But on the other hand, we'd love to get in on that lip-biting action #harot
10. We're pretty sure Brandon is as cute as this gif
11. And we're pretty sure Sam is as funny as this one:
12. But overall, we're happy the two of them are getting to know each other, holding hands (even if it hurts)
13. Because from the looks of it, they make it each other happy.
We'll be here silently hurting and being happy for them as their love story unfolds into more precious memories and maybe more award-winning songs.