This is Geraldine Roman.
She's the first ever transgender politician elected in the Philippine House of Representatives and it was historical.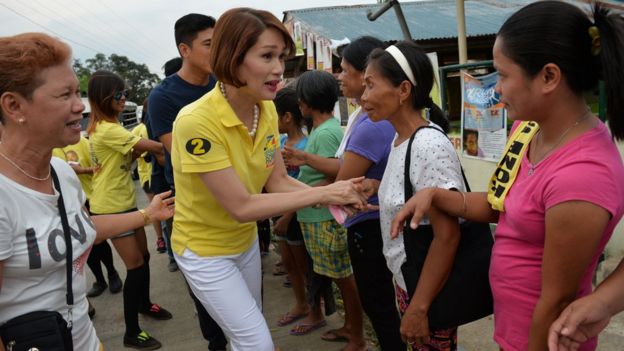 She has been battling to pass the anti-discrimination bill which is a key component to having equal rights for her #EqualityBabies, which is composed of the LGBT community.
Recently, the House of Representatives voted to reimpose the death penalty and the pvblic was outraged.
One of the biggest surprises came when the pvblic found out Roman was part of the 216 representatives who voted yes.
Why does Geraldine Roman's vote offend me? There are at least 15 countries worldwide that consider being LGBT a crime punishable by death!

— Jeric (@javiertionloc) March 7, 2017
geraldine roman voting yes on death penalty is proof that just because someone looks progressive doesn't mean they are. see also: duterte

— jade francis castro (@castrojade) March 7, 2017
Roman got a lot of backlash from it, being against DP in the beginning and all.
Cognitive dissonance (n)
1. When Imelda & GMA vote no to #deathpenalty
2. When Geraldine Roman votes yes.

— Kip Oebanda (@kipoebanda) March 7, 2017
I still need to process the fact that Geraldine Roman said yes to DP while GMA and Imelda said NO. It's a crazy republics.

— Miguel Lizada (@mlizada) March 7, 2017
People were just disappointed.
Apparently, Geraldine Roman is pro-death penalty.

'Yung inaakala mong simbolo ng pasulong na pagbabago, pabalik pala ang pag-iisip. SMH.

— Professional Heckler (@HecklerForever) March 7, 2017
The pvblic however got the scoop on what was up. Here's why Geraldine voted yes:
Here's the transcribed version care of Twitter user Patrick Balisong
"The times are different, the House leadership threatened no-voters and absentees. Please understand," she said.
"From the very start, the anti-DP move is a sinking ship. I compromised for my other advocacies. Try to understand my situation."
"I didn't want what happened to our district under my father to happen again. When we voted against sending the articles of impeachment (against Corona), our district received very little funding. We were cut out."
She asked, "Should I hold on to a sinking ship and drag my other advocacies and the rest of my constituency with it?"
"I had to make a practical decision. What about my constituents? My other advocacies?"
What do you think, fam? Leave a comment below.