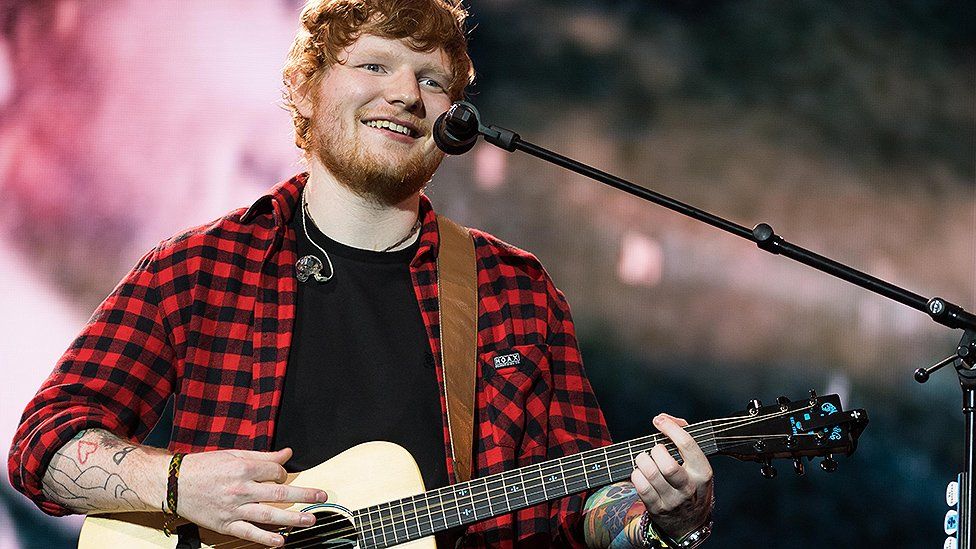 Spotify has finally released its Year in Music lists for 2017 and Ed Sheeran has dominated the list as the Most Globally Streamed Artist of the Year.
Sheeran's ÷ is the most streamed album as with a whopping 3.1 billion streams for the whole year. "Shape of You" was also the most streamed song in Spotify with over 1.4 billion plays. Overall, Sheeran had a pretty good year with a massive 6.3 billion streams.
"Ed Sheeran absolutely dominated this year with the release of his record-breaking album, Divide," Spotify's Chief Content Officer Stefan Blom said.
"There is no doubt that 2017 was The Year of Ed Sheeran, and we are thrilled that so many millions of music fans have discovered, listened to, and shared his music on Spotify. Congratulations to Ed on an amazing achievement."
But it wasn't just Ed. Drake, The Weeknd, Kendrick Lamar and The Chainsmokers can all take a seat with Sheeran as the Top 5 Artists of the year. The Most Streamed Female Artist was none other than Bad Gal "Rihanna" RiRi.
See if your favorite song, artist, and genre made it to the list below: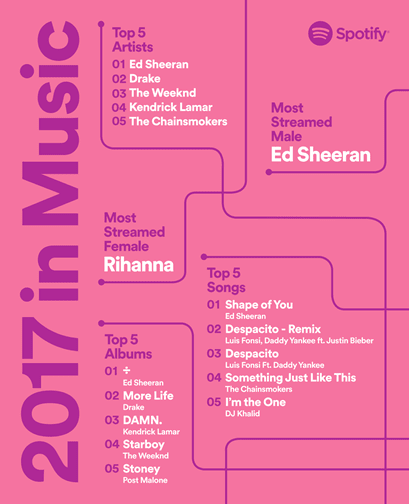 Most Streamed Artists
1. Ed Sheeran
2. Drake
3. The Weeknd
4. Kendrick Lamar
5. The Chainsmokers
Most Streamed Female Artists    
1. Rihanna
2. Taylor Swift
3. Selena Gomez
4. Ariana Grande
5. Sia
Most Streamed Male Artists
1. Ed Sheeran
2. Drake
3. The Weeknd
4. Kendrick Lamar
5. Daddy Yankee
Top Five Breakout Artists
1. Camila Cabello
2. Harry Styles
3. Liam Payne
4. Lil Pump
5. Trippie Redd
Most Streamed Groups
1. Coldplay
2. Imagine Dragons
3. Maroon 5
4. Linkin Park
5. Migos
Most Streamed Tracks
1. "Shape of You" – Ed Sheeran
2. "Despacito" Remix – Luis Fonsi, Daddy Yankee feat. Justin Bieber
3. "Despacito" – Luis Fonsi feat. Daddy Yankee
4. "Something Just Like This" – The Chainsmokers & Coldplay
5. "I'm the One" – DJ Khaled feat. Justin Bieber, Quavo, Chance the Rapper, Lil Wayne
Most Streamed Albums
1. ÷ – Ed Sheeran
2. More Life – Drake
3. DAMN. – Kendrick Lamar
4. Starboy – The Weeknd
5. Stoney – Post Malone
Emerging 2017 Genres
1. Melodic Power Metal
2. Chaotic Black Metal
3. Chillhop
4. Trap Latino
5. Future Funk
6. Jumpstyle
7. Serialism
8. Cinematic Dubstep
9. Vintage Swoon
10. Gamecore