The pvblic has been fighting for basic human rights ever since the escalation of extrajudicial killings with President Rodrigo Duterte's war on drugs.
Last night, the two policemen with an unlicensed plate visited the anti-EJK protesters who were gathered at Gate 2.5 of the Ateneo de Manila University.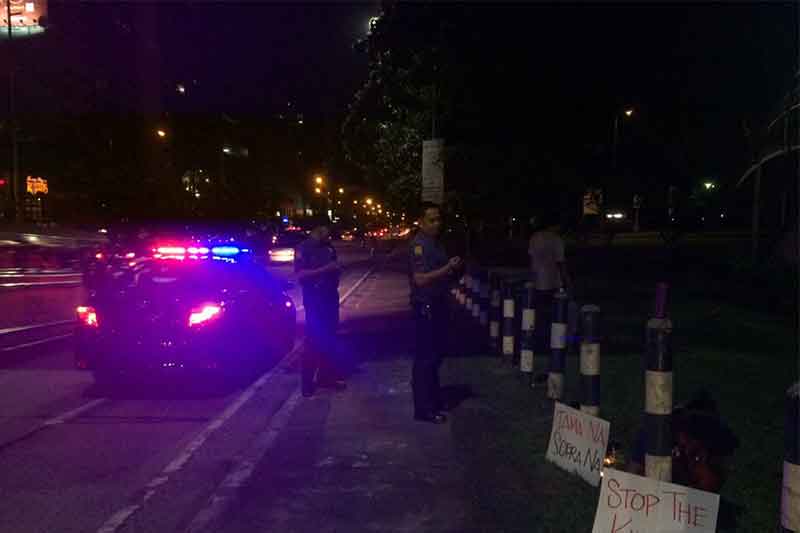 The Guidon, the official student publication of Ateneo, reported that these policemen asked the names of the leaders of the protest.
An estimated 40 to 50 people attended the protest, making a stance against extrajudicial killings and calling for justice of Grade 11 student Kian Loyd delos Santos.
When the police officers arrived, attendees were advised to enter school premises as the policemen allegedly had guns on them.
The police arrived moments after a candle lighting ceremony at 8:24 p.m., the exact time Delos Santos died, according to The Guidon.
Ateneo student Lanz Espacio said on Twitter that the police asked them what they were protesting and ordered them to list their names.
Ang lakas pa manakot. Tinanong pa kung anong pinaglalaban namin (malinaw naman sa mga sigaw at plakard) sabay pinalista mga pangalan.

— Lanz Espacio (@lanzespacio) August 24, 2017
Twitter user @lepetitefangirl talked about the experience:
I was on my way home from an 8pm class and palabas ako ng Gate 2.5 where people were gathered for a barrage/vigil. I decided to stop by.

— – (@lepetitefangirl) August 24, 2017
Natapos ang vigil with a short meeting kung ano mga susunod na gagawin. Just when people were about to disperse, a police car came.

— – (@lepetitefangirl) August 24, 2017
At that point, kinabahan na ako so I started backing away and heading towards the overpass na. But I still looked on from the stairs.

— – (@lepetitefangirl) August 24, 2017
That scared the shit out of me so I decided time to go na. As I was leaving I saw na pinaharap ng mga protesters yung placards sa mga pulis.

— – (@lepetitefangirl) August 24, 2017
Apparently the police started asking questions na. Nagtanong sila kung ano daw ba pinaglalaban namin.

— – (@lepetitefangirl) August 24, 2017
People started disbanding. I wish I could say na we stood our ground and didn't put out the candles and picked up our placards.

— – (@lepetitefangirl) August 24, 2017
I'm out of words, guys. Umiiyak ako on my way home alone to my condo. I was so, so scared. Of the police. The ones supposed to protect me.

— – (@lepetitefangirl) August 24, 2017
I'm home now, thank you for those asking if I'm okay. I'm not, but I'm alive and if there's one thing I am taking away from tonight…

— – (@lepetitefangirl) August 24, 2017
But no matter what, the Filipino pvblic will not be silenced.
Fear will not win. We will not let it. Let them hear our outrage. Lalaban tayo mga bimbs. Walang susuko, okay? *yakap ng mahigpit*

— – (@lepetitefangirl) August 24, 2017
Let's call this out for what this is: this is how they begin to stifle freedom of speech & assembly. We WILL NOT be silenced. https://t.co/aOgArUnDCZ

— Dasha Uy (@kimkarDASHA) August 24, 2017
The Union of Students for the Advancement of Democracy (USAD) and Kabataan Partylist Katipunan have given out their statements, condemning the police officers in the incident.
"Masidhi naming kinukundena ang mga pagtatangkang takutin at ipagkait sa taumbayan ang kanilang karapatang magprotesta at ipabatid ang kanilang mga hinanaing," USAD Ateneo said.
"Make no mistake: this was a thinly-veiled attack on students' and peoples' democratic rights to assemble and protest, a test of the waters on how effectively and quickly the PNP can quash dissent and discontent with the government's failed wars against its people," Kabataan Partylist Katipunan added.
Quezon City Police District chief Guillermo Eleazar addressed the Ateneo community after the visit to the rally saying, "Walang intimidation or harassment na ginagawa ang ating kapulisan sa inyo. In fact, kino-consider namin kayo na good neighbor na dapat ibinibigay ng protection."
"As you all know, ang daming bomb threats na itinatawag niyo sa amin at nagkakandarapa kami para pumunta doon, diba? Para to secure you."
"We have all the reasons and dapat kami na andyan sa lugar na yan para magbantay sa inyo at panatiling maayos ang pagdaloy ng trapiko," Eleazar added.
"So, nothing to worry about."
So, is there really nothing to worry about? Leave a comment below.