We know you know how to do your makeup like a dang queen, but we just know this #PvblicSpeaker will help you up your hair and makeup game.
You can pick up a few tricks along the way with her intimate makeup workshop on July 19, 2017 at the xState Co-Working Space in Makati City.
But before everything, why should you listen to Bianca Umali aka our self-taught professional makeup artist for #PvblicSpeaks? Well, we asked her eight essential things and you better listen up because they just might be of utmost help to you.
You don't want to end up having a bad makeup day.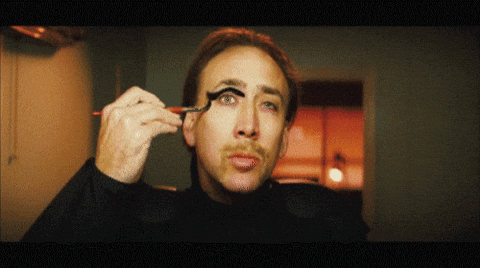 1. How did you start out?
I started as a beauty enthusiast at the age of fifteen, watching OG beauty gurus on YouTube while playing with my mom's makeup on the side. I mainly practiced on myself, but my sister was always ready to be my go-to model.
During my college days, I helped a friend with her school plates by doing her models' hair and makeup. It was then that the idea of being a professional in the industry has somewhat entered the realm of my imagination.
My professional career started immediately after graduating from college in 2014. Being a Psychology major, I had my fair share of experience in applying for course-related jobs. While that went well and all, the universe somehow conspired to detract me from that path I was set to take (albeit tentatively). Knowing how passionate I am about the idea of doing makeup as a profession, my parents urged me to pursue a career in that industry instead, much to my surprise.
I got my first set of clients through posting ads online. Back then, I had little to no knowledge about how to be a pro in the industry. I followed a lot of established makeup artists in the industry to learn how to jump-start my career properly. Slowly and through experience, I learned about proper pricing, purchasing the right products, doing the right techniques and a lot more.
2. When did you start MUBU?
MUBU is the rebranded version of Makeup by Bianca Umali, which I launched this July 2017. Makeup by Bianca Umali, however, has been around since I started freelancing in 2014. I was in the process of making a Facebook Page in order to have a platform where I could showcase my works, and I settled for a simple and self-explanatory name back then. Honestly speaking, I did not think of the creatives that much while curating my brand name a few years back, as majority of my focus was allotted on improving my techniques and getting more clients avail of my services.
My siblings were the ones who first suggested the name MUBU, but it took a while for me to envision how these four letters could represent me in the best way possible. My style has always been inspired by minimal yet feminine Asian aesthetics, and I spent hours creating a logo that would embody that.
The biggest difference, I would say, is that MUBU is now known as an entity that houses everything I wish to pursue in the industry. It now stems out from its freelancing roots to a bigger and broader playing field.
3. How long did it take for you to get to where you are now?
It's been almost three and a half years since I started, and I am still in that journey of going where I want to be. It may sound ambiguous, but I've constantly trained my mind to not think of how far I've come, but to just keep looking forward while doing my best each day. It still comes as a shock to me at times whenever I stop and think about how all these "everyday successes", no matter how little they may be, have already piled up. Whenever I hear people tell me I've come far, that's when I realize that I have really succeeded in some ways.
I know I still have a long way to go, but if there's one piece of advice I would give to people like me who are constantly on the grid and hustling, it's this: Just focus on hustling. Constantly looking back and seeing how far you've come is mentally taxing and draining. Attaining success is a journey of collecting small successes along the way.
4. What's a normal day for Bianca Umali?
My days vary from day to day. Since I am a freelance makeup artist, there are days that I hop around the metro going from client to client. I answer inquires in between so I am almost always on my phone when I'm not doing someone's makeup. During these hectic days, I make sure to always have coffee on-the-go or during client sessions to keep me going.
Other days are more relaxed, and during those days, I focus on filming new tutorials for my YouTube channel and content for my blog. Whenever I want to disconnect and just rest my mind, I prefer to sleep in or watch K-Dramas with my boyfriend (our guilty pleasure) while eating good food whenever he comes over.
5. Do you have a certain technique for each and every one of your clients? How do you put on just the right shade for your clients?
Doing makeup on a client is a different experience each time, given that everyone has a different skin type, skin tone, sensitivity, etc. This is the reason why makeup artists have different types of products of the same kind. There is no one formula that fits all faces, that's why people hire professionals.
When it comes to getting the right shade, it's all a matter of understanding someone's skin tone, type and corresponding undertone. I usually mix different foundations on a palette to get the perfect match.
6. How long does it usually take for you to finish up a look for a client?
If I'm doing makeup only, it takes me an hour to an hour and a half to finish a look. With hair styling, it could take up to two to two and a half hours.
7. Do you sometimes imagine your client's face as a canvas and your brush as a tool to create a masterpiece? Can you tell us a little bit more on this if you do?
Of course. The practice of doing makeup is an art form and the processes involved are what makes it so great for me. Just like painting on a canvas, us makeup artists always start with a clean face to work with and build our way up. It's always fun and thrilling to see how a person's face transforms into something she (or he) desired. Unlike painting on a canvas, however, the excitement of a satisfied client coupled with your personal satisfaction with your work makes the experience a lot better.
8. What words of wisdom can you impart to people who want to become professional makeup artists?
-Constantly practice your strokes and techniques.
-Don't be afraid of doing some collaboration work with photographers / stylists / models as this would enable you to have a good start-up portfolio.
-Utilize social media by marketing yourself through these platforms. Clients like seeing neat and streamlined online portfolios, which would also make you more referable.
-Be wise with your earnings. Your starting makeup kit shouldn't necessarily contain all be high-end / luxury goods. Find alternatives from the drug store or indie brands by reading reviews online.
-Price modestly, but appropriately. Having more experience and targeting your desired audience allows you to price higher eventually.
-Save up for tools that are built to last. They may be expensive initially, but your wallet will thank you once these items prove that still perform excellently after a decade.
-Keep your makeup and tools clean and neat. Sanitize your makeup, and wash your brushes and sponges frequently.
-Dress professionally and mind your hygiene. First impressions always so last so go to every job looking and feeling your best.
-Be sociable and respectful during team projects as this would enable you to have a strong and broad network of colleagues.
Slots are limited so hurry up and register now at http://pvblicspeaks.wethepvblic.com/!
So what are you waiting for? Go and unleash the inner beauty guru in you! Remember to bring your own makeup essentials with you.