There has been an ongoing issue on whether Apo Whang Od was exploited or not. Everyone weighed in on the topic and well, there's another side to the story.
Xeng Zulueta shared a different story on the Kalinga tattoo artist's stay in Manila for the Manila FAME trade fair which happened on October 20 to 22.
Xeng said, "Wish nung matanda pumunta dito for her 100th birthday. She's never left kalinga in the last 99 years. The whole tribe and family went down from the mountain province and braved landslides. BUWIS BUHAY. They knew the risks of making the journey and so they decided to make the trip as a whole community."
Zulueta said Apo was airlifted via helicopter. "You know, before you get to Apo, you need to go through so many relatives and members of the tribe. Hindi ka basta-basta makakapunta sa kanya."
Zulueta adds that "you don't stand a chance" in attempting to exploit the centenarian tattoo artist with the help of her tribe.
"If you do have a chance to see her, most, if not all of us, we all came bearing gifts & offerings. There were 3 of us they allowed up to her hotel room. You can't really exploit somebody who wants to be here."
Zulueta mentioned how Whang Od couldn't stop talking about her encounter with Probinsyano actor Coco Martin. "She loves all the photo ops, the royal treatment, maybe hates Manila food, and couldn't stop gushing about meeting Coco Martin when I came to see her. She loves the limelight and loves all the attention."
Zulueta clarified that Apo's niece, Grace, does all the tattoos now and Apo finishes to add her signature.
"I think you're all forgetting that [it] was she who wanted to come here. She knows the rules of engagement. If there is mutual consent, there is no exploitation. She is fully aware of what's going on and refuses and says no and also knows when to oblige."
"Being 100 years old doesn't always mean you can't make your own decisions but in her case, A WHOLE TRIBE makes that decision together," Zulueta added.
"What's important is her happiness, her safety (they airlifted her back on Sunday)."
"I was able to get an audience with her because I was contacted by a member of the Buscalan community. And not just any member, extended family. THEY CONTACTED ME."
Zulueta sets the record straight for the photo that went viral of Whang Od during the press conference:
"They showed it to her and asked her what happened. She said she did not understand the topic and the interpreter and got bored and fell asleep for 2 minutes."
She claims that Whang Od only tattooed 15 people, not 200 which spread on Twitter.
Manila FAME
Clayton Tugonon, executive director of Department of Trade and Industry's (DTI) Center for International Trade Expositions and Missions (CITEM), said Whang Od was flown to Manila to nominate her for the "Gawad sa Manlilikha ng Bayan (GAMABA)" or the National Living Treasures Award.
Tugonon adds, "The art has never been changed. She's an institution about arts – [symbolizing] the pure talent of Filipinos."
"The dream was for her to be awarded. It's our plan to work until she gets the award. She deserves it," Tugonon stated. The agency went through the process of acquiring several permits just to be able to bring the last mambabatok to Manila.
Tugonon mentions it was not in the organizer's intention to "exploit" Whang Od, but rather, to show the pvblic her craft.
"Nakakasakit kasi 'yung mababasa mo na kino-control ang pera. We want to promote. Kayo mag-price, all we have to do is to present them," he said.
"Paano ma-eexploit si Whang Od? For so many years, walang nangyayari na nagpromote sakanya bilang recipient ng GAMABA Award."
"I hope the people change their notion about her being here. We just want to promote her," Tugonon said.
Whang Od is happy to come to Manila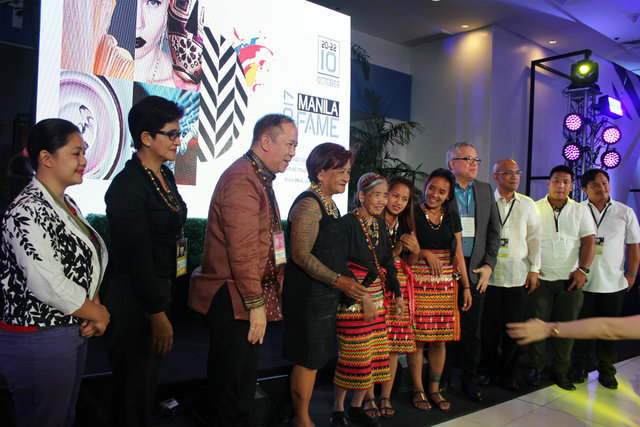 Despite the controversy, Whang Od is happy. Grace Palicas, her niece, said in a text message to Manila FAME that their group was honored to be part of the trade fair.
"Masaya ako na mainvite kami sa Manila FAME, proud kami. Hindi kami masyadong showy sa nararamdaman namin. Pag nag-uusap kami [Whang Od], gusto niya. Sabi ni lola, gusto niya rin daw makita ang Maynila. Sabi ko, kung gusto mo, sige para memeet din niya yung ibang kultura," she said.
Eva Oggay, a relative of Whang Od, posted on the Facebook group "Tattooed by Apo Whang-Od" that they are "very happy to come to Manila."
Oggay says Whang Od is happy to meet the pvblic in Manila that appreciate her and her tattoo designs. "I just want to tell you guys that the group from Buscalan are very happy coming here to Manila. And Apo Whang Od Oggay is very well… happy to meet the people in Manila that appreciate her tattoo design. That she came to meet [actor] Coco Martin and the relatives from Kalinga [who live] in Manila," she wrote on a Facebook post.
Banner from here.